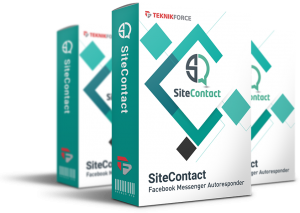 - March 24, 2018 /PressCable/ —
A new marketing tool called SiteContact by Cyril Jeet has been launched, helping businesses in any niche to improve their online presence and boost engagement with their audience. It allows clients to get 100% viewership with direct to inbox Facebook messaging and a new, powerful Facebook autoresponder.
More information can be found at: http://letsgolook.at/Sitecontact
The site explains that SiteContact has been built from the ground up to offer the best service for companies in any niche. It is a powerful, simple to use tool that can be used by any site owner even without marketing experience.
Called the future of online marketing, it harnesses the power of social media and 1-1 messaging to engage with customers, get more leads, and ultimately increase sales.
Email has been around for some decades now, and it's getting stale in terms of a marketing tool. Customers get spammed with so many emails that they are beginning to simply ignore anything from a sender they don't know.
This is where SiteContact can help, through guiding site owners through the Facebook messaging process. It allows businesses in any category to get noticed more easily, and is more effective than email, because less and less people are opening their email at all.
SiteContact is the first ever Facebook autoresponder that lets users build their own Facebook list in four powerful ways. Once the list is built, the site owner can then broadcast to their new audience as often as they want.
This truly fresh approach to social and internet marketing allows clients to dominate their internet marketing efforts more easily. It is a web based tool, which means it can be run from anywhere, and allows clients to sign up their leads just as easily as email.
Broadcasts that are put out can focus on anything, including updates, offers, new products, and more. It is fully newbie friendly and designed to be as easy to use as possible.
Full details can be found on the URL above. Additional details are available at: http://muncheye.com/cyril-jeet-sitecontact-2
Release ID: 319672