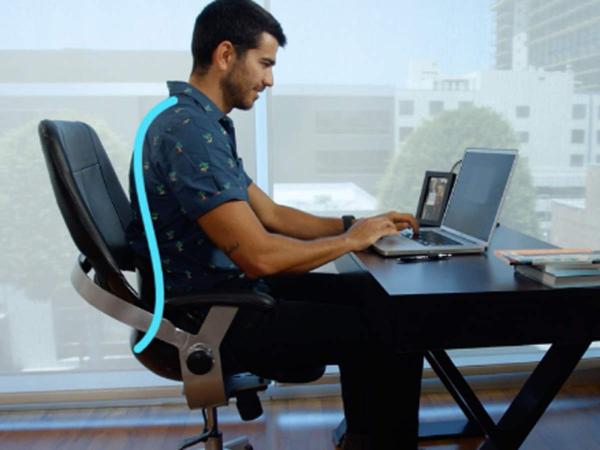 - February 15, 2022 /NewsNetwork/ —
In today's technological age, more and more people work at their computers all day long and end up suffering back pain. This updated report explains the importance of ergonomic chairs for anyone who works at a desk or computer.
More information is available at https://thebackstrongworkchair.com
With this report, computer workers can now understand why inadequate back support and regular office chairs can lead to chronic back pain.
According to the resource, back pain is a leading reason for missing workdays every year. According to the CDC, almost 14% of insured patients who got care for back pain were given a seven-day prescription for opioids. The best solution, however, is to not get back pain in the first place.
Most back pain for people who work at a computer or desk occurs because people use poorly designed office chairs. Although the report states that there is not just one correct way to sit at a desk or workstation, spine-health.com recommends investing in an ergonomic office chair as one of the most important ways to avoid getting back pain, and webmd.com says that the chair should cradle the small of a person's back comfortably.
Many individuals have accepted back pain as one of the side effects of computer work, but that does not have to be the case. Investing in the BackStrong ergonomic office chair with Sit-in-Motion technology, which was named 'Best Ergonomic Chair for Back Pain' by Popular Science, can solve the problem and help the individual avoid future back pain.
Designed by team chiropractor to the Los Angeles Clippers Dr. Dennis Colonello, D.C., the Sit-in-Motion technology of this chair maintains alignment of all 33 vertebrae of the person in the chair, improving flexibility.
All33's mission is to improve health and wellness and reduce suffering related to back, neck, and shoulder pain. The chair supports the lower spine, forcing good posture. It maintains the natural curvature of the spine and keeps the individual sitting up straight without effort.
A satisfied customer praised this chair, "Only a week using my new BackStrong and I can already feel the difference, especially in my lower back. The back pain I would experience from hours sitting at my desk is GONE, and I'm sitting straighter without even thinking about it. I already LOVE my BackStrong and I'm not sure how I even worked without it."
Interested parties can get more information at https://thebackstrongworkchair.com
Release ID: 89064409