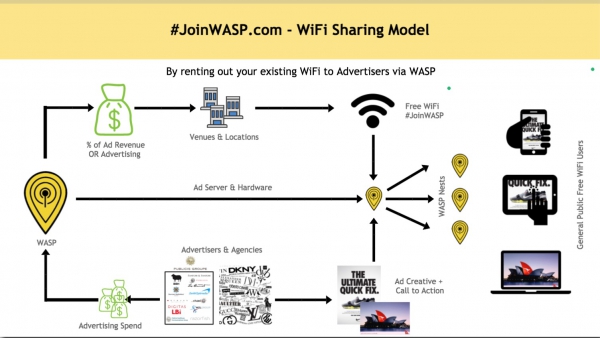 - March 12, 2017 /PressCable/ —
Innova Advertising, an innovative marketing firm based in Singapore, launched JoinWASP, a unique advertising concept, dubbed the AirBnB of WiFi, which allows venues in locations around the world to rent out their idle or unused WiFi to businesses and advertisers. These venues include cafes, day spas, shopping malls, hotels, motels and other places of business that large groups of people frequent. Overall, JoinWASP is promoting a sharing economy and helping to reduce the carbon footprint by lessening the need for paper-based marketing.
For more information visit http://joinwasp.com.
Launched in February 2017, JoinWASP uses the growing WiFi trend to its advantage. Recent research suggests wired data is slowly becoming redundant, with WiFi data downloads predicted to surpass old hard wired technology by 2018.
Subsequently, JoinWASP created a winning WiFi solution for venues and businesses. Venues benefit by making the most of their under-utilized WiFi, and businesses gain greater exposure and don't waste precious paper resources. Plus, they can track their marketing success with greater efficiency.
The JoinWASP medium uses images and video, as well as lead generation techniques to convey messages. Also, WASP is 100% digital so businesses can enhance user experience to engage and encourage action. These ads are also changeable and include hyper-location targeting so businesses can specify where ads appear.
As a division of Innova Advertising, JoinWASP shares the common vision of connecting people everywhere to everything via a WiFi partnership. As such, both companies seek to enhance user experiences by providing engaging software that is effective and sustainable.
When asked why they have launched the JoinWASP free WiFi concept CEO Lee KamFai said, "We believe that Asia is a booming travel region and that means an increase in travellers who'll want WiFi access. Coupled with the fact that mobile data consumption is ever increasing with video downloads, AR and VR on the rise there's no better way to capture attention by giving away Internet access in exchange for seeing a few ads."
To find out more about JoinWASP and the free WiFi solution visit http://joinwasp.com.
Release ID: 176178