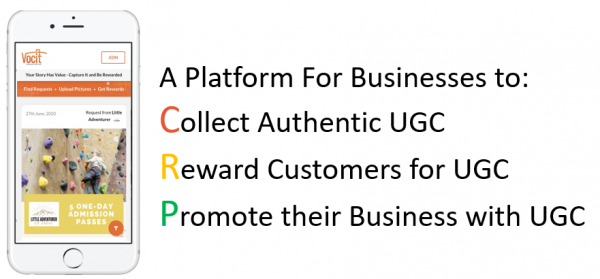 - April 12, 2021 /PressCable/ —
A newly updated content marketing service has been launched by Vocit, the integrated user generated content (UGC) platform. With 60% of consumers believing that UGC is the most authentic form of marketing, they provide clients with the tools they need to capitalize on this.
More information can be found at: https://vocit.io
Through the newly updated platform, small business owners can get user generated content directly from consumers. The platform streamlines each stage of the content generation process, making both online, local and offline marketing easier.
Vocit is a simple-to-use tool that enables businesses in any niche to collect authentic UGC and reward customers for providing it. Alongside this, clients can quickly and efficiently promote their business through the user generated content they gain access to.
With the rise in prominence of digital forums, comments on articles and blogs, and free publishing platforms around the net, the impact of UGC has risen in prominence.
Through leveraging this content using tools like Vocit, businesses are able to increase trust and authority with their audience. Data reveals that 92% of consumers trust organic, user generated content more than more traditional forms of advertising and promotion.
Implementing UGC as part of a wide-ranging content marketing campaign can have a large impact across social channels. It increases reach, engagement and visibility, and can lead to more traffic clicking through to a company website or special offer.
UCG is trusted more by audiences because it's visibly authentic and highly credible. Other consumers recognize that they are witnessing a product, service or offer with real-world value that they can trust and rely on.
Vocit connects entrepreneurs and business owners with a tailor-made platform for UGC content creation. The process works across three simple steps. Firstly, the business asks for content, and from there they can offer a reward for customers who complete the task.
Users then create the content, ensuring a win/win situation for both parties. Businesses are able to leverage this content to build trust, encourage engagement, and establish a stronger online presence.
A spokesperson states: "UGC builds brand-consumer relationships, and 60% of consumers believe it's the most authentic and influential form of marketing."
Full details can be found at: https://vocit.io/register
Release ID: 89004819