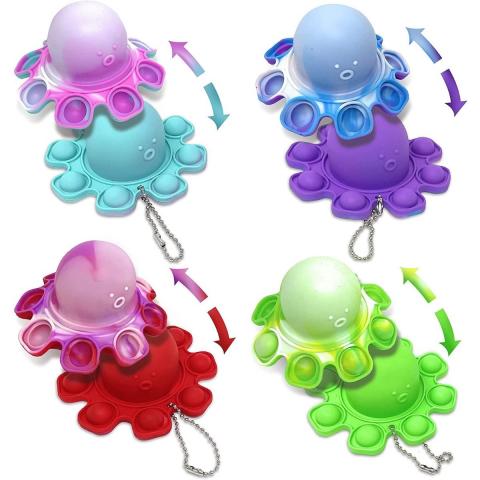 - July 25, 2021 /PressCable/ —
Lifestyle brand Perfect Life Ideas has released its new Reversible Octopus Fidget Keychain on Amazon. The sensory toy can be used to alleviate stress, anxiety, and boredom for both kids and adults.
More details can be found at https://www.amazon.com/Pack-Reversible-Octopus-Keyring-Colorful/dp/B098BM3136?maas=maas_adg_40E8490685A18F999426E224E1E7C66B_afap_abs&ref_=aa_maas
With its bright colors and squeezable tentacles, the new fidget keychain can be beneficial for individuals who need to focus and de-stress while at school, at home, at the office, or on the go.
Sensory play can have a range of benefits for the brain development of toddlers and young children, including the improvement of motor skills, problem-solving abilities, language, and social interaction. Individuals with ADHD, ASD, and other special needs, in particular, can use sensory or fidget play to improve their concentration and decompress when needed.
Perfect Life Idea's Reversible Octopus Fidget Keychain features eight bubbled tentacles that can be pushed down and popped to create a calming sensory experience for customers of all ages and abilities.
The octopus fidget toy includes a multi-functional keyring that can be used to hold keys or conveniently be attached to any backpack, purse, pocket, or handbag. The product's soft, waterproof material also makes it the ideal bathtub toy for younger users.
In addition, customers can enjoy the gadget's double-sided reversible design. The toy can be easily changed from a solid color to a unique tie-dye design with a single flip.
The pop-up toy is made from eco-friendly, food-grade silicone, making it long-lasting, non-toxic, and reusable. To clean, one can simply apply water and any normal dish soap to the product's surfaces.
When ordering the product from Amazon, buyers will receive a pack of Reversible Octopus Fidget Keychains in a random variation of four vibrant hues: purple, blue, red, and green.
A spokesperson for the company said: "This fidget pop octopus toy meets the needs of everyone. These beautifully designed octopus toys include a cute octopus expression, patterns, and bright colors, and are a unique gift for ADHD children and adults."
Interested parties can find additional details at https://www.amazon.com/Pack-Reversible-Octopus-Keyring-Colorful/dp/B098BM3136?maas=maas_adg_40E8490685A18F999426E224E1E7C66B_afap_abs&ref_=aa_maas
Release ID: 89038505