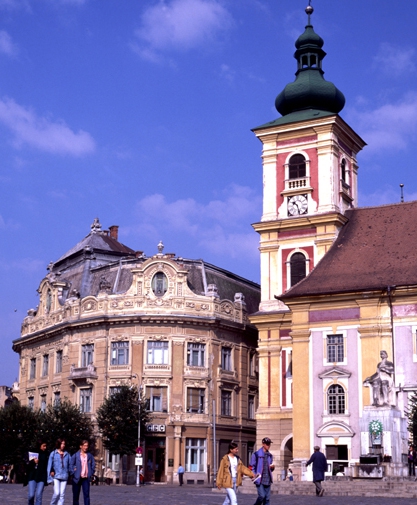 - July 19, 2016 /PressCable/ —
The popular boutique international tour company Original World announced a small group escorted tour to Romania, taking place in September 2016, tailored to provide an authentic, absorbing and unique experience and immersion in the country's traditions and culture. The group size is limited to a maximum of 8 people, allowing the group to travel into the rural countryside without disturbing the local life, have an authentic immersion with the culture and enjoy plenty of one-on-one time with the wonderful expert accompanying guide.
More information is available at http://originalworld.com/travel-to-romania/.
Original World is an international tour company providing a broad range of unique guided small group and private custom tours crafted to provide memorable, authentic and personal cultural exchange and immersion experiences in Asia, Europe, Middle East or Africa.
The tour company has announced a limited time discount offer on its September 2016 small group tour to Romania. The tour includes a comprehensive guided exploration of Bucharest and its historic cultural sites along with Sighisoara, one the best preserved inhabited medieval cities of Europe, the unique Merry Cemetery in Sapanta Village, the painted monasteries of northern Moldova, including the 'Sistine Chapel of the East' or a tour of medieval Transylvania and its palaces, fortifications or the famous 'Dracula's Castle', and more.
The unique Original World 12-day tour of Romania also includes visits to the oldest art museum in the country, horse and carriage rides thru the open air museum of Astra or dinner with "ceterasi" violin players along with stays in local villages to ensure the small group, comprised of 12 people maximum and led by an experienced accompanying guide, is able to enjoy an authentic experience and immersion in the country's traditions, lifestyle and culture.
More information on Original World and its small group escorted tours of Romania, taking place in September 2016 and Spring thru Fall of 2017, including the full 12-day itinerary, special last minute discounts, accommodation and meals, trip preparations, and more, can be viewed on the website link provided above. The deadline to book a place on the tour September tour is August 15th, 2016.
The founder of Original World, Barbara Sansone, explains that "traveling to Romania with Original World will allow you to truly experience the delights of a country rich in heritage and endearing charm. Travelers looking for a unique European vacation, should look no further than Romania, still an undiscovered gem".
She adds that "after the hustle-bustle of Western Europe's big urban cities, Romania is a pristine untouched landscape and paradise for photographers with charming villages, precious beautiful churches and monasteries and very friendly local people. Romania has so much to offer that I'm surprised it is not on the top of list when choosing where to go in Europe".
Release ID: 124026