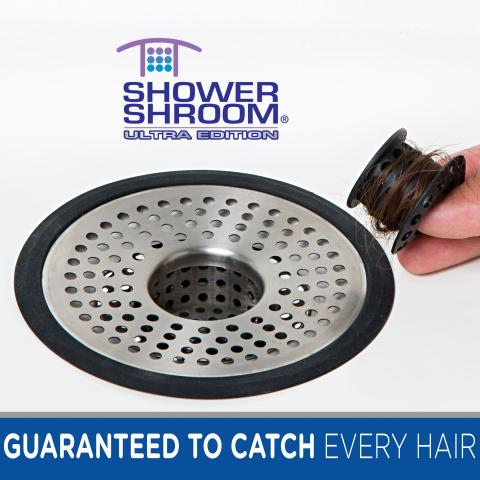 - June 11, 2020 /PressCable/ —
A new crowdfunding campaign has been launched to promote the introduction of the ShowerShroom Ultra. The product offers a new level of efficiency in protecting shower drains from hair blockages. It has been developed by the same innovators who introduce the award-winning TubShroom drain protector for bathtubs.
For more information please visit the website here: http://igg.me/at/showershroomultra
The ShowerShroom fits both shower cubicles and shower/tub drains and uses innovative technology to collect and remove all hair released during showering, even pet hair. It is a simply fitted device that can be cleaned at any time to reduce the need for chemical cleaners and prevent shower drain blockages.
The ShowerShroom Ultra is the latest in a line of innovative drain protectors introduced by Juka Innovations. Starting with the introduction of the TubShroom bathroom drain protector in 2015, the company has since launched a string of innovative drain protectors for the sink, kitchen sink and drains as well as a new design for a highly effective toilet plunger.
Now they have introduced a shower drain protector that can be used to protect vulnerable drains in both shower stalls and shower/tub combinations. To date their products are used in nearly five million homes.
The ShowerShroom Ultra is made from top-quality stainless steel so will not rust. The design is optimized to readily fit both stand up shower stalls and shower/bathtub drains and will match stainless steel and chrome fittings.
Videos on the above website show how it can be easily installed and how simple the cleaning process is. The patent-pending technology holds trapped hair out of sight while ensuring no drain blockages or any need to use chemical drain cleaners.
For just $15.00, investors can receive one ShowerShroom at a 25% discount with shipping to anywhere in the world. Two ShowerShroom can be bought on this launch offer for $27.00, representing a substantial 28% discount.
Also offered at the 28% discount price of $27.00 are a ShowerShroom and TubShroom combination pack, a ShowerShroom and SinkShroom pack, a ShowerShroom and KitchenShroom pack or a ShowerShroom and DrainShroom pack.
Those with multiple showers or buildings and owners of commercial properties may find the multiple offers of interest. These include five ShowerShrooms available for $64.00, representing a 35% discount, or twenty for $228 dollars, representing a 38% discount. All these offer bundles will be ready for delivery in mid July can be shipped worldwide.
Those wishing to find out more can visit their website on the link provided above.
Release ID: 88962408