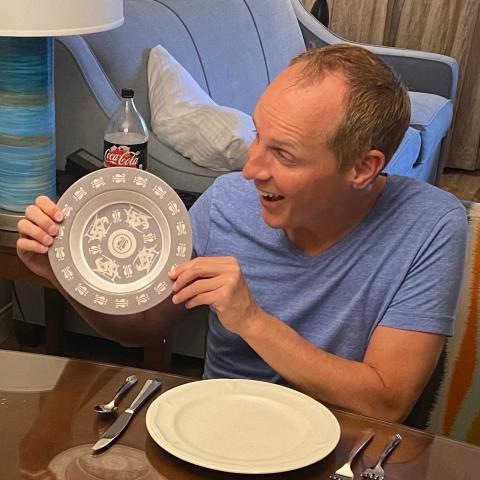 - March 4, 2022 /PressCable/ —
Looking to make that next dinner party one that your friends and family won't stop talking about for years? Get ready to set the table with something sure to turn some heads and give you absolute top billing for creative themes. INVI-me, LLC is making public a fun and shocking new addition for your movie cult collection – Birdcage Inspired Dinnerware – Greek Boy Bowls, Plates, and Platters which for trivia buffs will appreciate was the very first product for sale on their website.
The idea for creating the series of dinnerware came about when owner/founder of INVI, Ken Dickison watched the movie "The Birdcage," starring Robin Williams, Nathan Lane, Gene Hackman, Calista Flockhart; and after rolling on the floor in pure laughter from seeing the infamous dinner scene where Agador, played by the amazing Hank Azaria, accidentally sets the table with the Coleman's, or is it Goldman's (even I'm still confused about that), sexually provocative bowls for nervously staged first meeting with the new ultra conservative in-laws. "I just had to have them for my own table to shock my own guests. However, they were no where to be found." Dickison said, "So, I created them myself and showed them off to all my friends." Soon after the hit dinner party, Dickison said he just HAD to create them for others to also "shock" and "thrill" their friends as well. "Imagine inviting your in-laws over for seafood chowder with huevos and seeing them bust up laughing." while watching this classic flick!
Dickison admits that the Birdcage Greek Boy inspired bowls, plates, and platters were difficult to find a real representative Greek artwork from the period to offer a true perspective of reality. "I searched for classic Greek illustrations and I discovered that pottery, tiles, and even paintings from the era have been found in ancient Greek and Rome." Dickison admitted. "Although my dinnerware was new, I wanted it to have a feel of true-to-life representation of ancient times that it existed within."
So with a touch of modern symbols and real Greek art from the times, I mashed up the two to created three different scenes… Threesome, Missionary, and Doggy patterns. Some have a homoerotic feel, but they are mostly androgynous depictions that can lean either way for everyone's dinner table.
INVI-me, LLC got it's start when founder Ken Dickison looked for a way to sell and distribute the dinnerware online. He shared that each order is custom made and is printed onto a resin plate, bowl or platter that only looks like melamine, but is actually heavier, BPA free, and even oven safe up to 275 degrees. Even when you warm food on it in the microwave it doesn't heat up, but your food does.
If you are looking to set the table with something guaranteed to get the conversation started? Then the Birdcage Dinnerware is the answer!
Ken Dickison is quoted saying: "I like to create custom products that connect people with emotions. I say everything you do, say, and surround yourself with on daily basis is a representation of who you are as a person." Make it fun, be crazy and wild and mostly always be yourself!
Birdcage, The Movie – Greek Boy Inspired bowls, plates, and platters have launched! To find out more, it's visit https://www.invi-me.com/collections/birdcage-inspired-dinnerware
For more facts and further information about INVI-me, LLC, this can be discovered at https://www.INVI-me.com
Release ID: 89066545