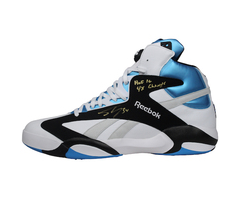 - September 23, 2016 /PressCable/ —
Shaquille O'Neal sports memorabilia has gained prominence world over and collectors, new and old alike, purchase authentic, autographed sports memorabilia not just for the sake of preserving history, but also as a commercial venture.
For the first time ever, http://gamedaylegends.com is making recent 2016 Hall of Fame Inductee Shaquille O'Neal's "Shaq Attaq" autographed, dual inscribed Reebok sneaker (size 22) available to the public. Worn during his rookie season with the Orlando Magic, the limited release sneaker will come with a dual inscription: "HOF 16" & "4x Champ" to commemorate his recent, September 9, 2016, entrance into basketball immortality.
This is one of those items that only come once in a lifetime and with its limited release, you don't want to miss out on it. This limited edition (34), dual-inscribed Rookie shoe is a Game Day Legends' exclusive piece and cannot be found anywhere else.
"Game Day Legends is committed to giving its customers a full service buying experience. The company's exclusive editions feature some of the most sought after athletes,' said President and CEO, Erich Ekstedt. For sixteen years, Game Day Legends has been providing customers with high quality, authentic, limited and exclusive edition pieces of history to add to their collections. The company has built its name to be one of the most trusted brand in the sports memorabilia industry.
Game Day Legends is a online source for signed sports memorabilia for the best-in-class athletes. The Company's core focus is not only to provide the best lineup of authentic sports memorabilia available, but also to deliver a first-class customer service experience that can't be found through any other distributor. Since 2000, Game Day Legends has worked hard to establish itself as one of the most trusted and recognized companies in the sports memorabilia industry by providing sports fans with a high-quality investment and a unique piece of history to add to their priceless collections.
"At Game Day Legends we clearly understand that, to the majority of the collectors, sports memorabilia means more than just a collection or a hobby, it is an investment that can be handed down from generation to generation. For this reason, we are dedicated to bringing the best to our customers and doing everything we can to make their dream of owning a piece of history a reality," says Ekstedt.
Release ID: 134040