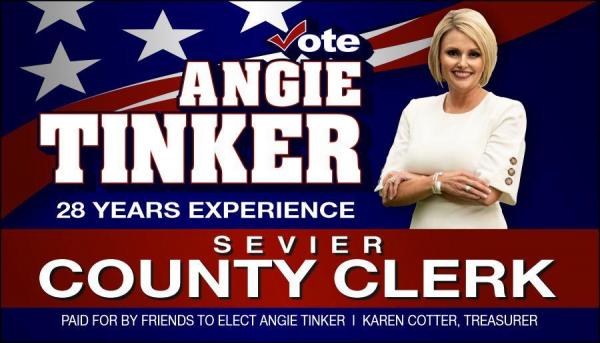 - July 15, 2021 /PressCable/ —
Angie McCarter Tinker, a Sevierville resident and long-time employee of the Sevier County Clerk's Office, has officially made her announcement to run for the County Clerk position in the upcoming 2022 election. Endorsed by current Clerk, Karen Cotter, this will be Tinker's first time running for Sevier County Clerk.
If elected, Tinker plans to improve customer service in all departments, provide an additional location in Seymour, as well as provide upgrades for the current locations. She also plans to develop cross training programs and focus on keeping what works while always striving for improvement.
"Over the last 28 years, I have had the privilege to serve the wonderful citizens of Sevier County as a Deputy Clerk in the County Clerk's office," stated Angie McCarter Tinker. "I have served in various departments of the office over that time period. I feel my experience has prepared me for this step to be your next County Clerk. It is my passion to serve the public and their families. I am committed to continue to serve with efficiency, accountability and integrity. I promise a friendly atmosphere that will leave you with a great experience after your visit to the clerk's office. I will work hard and make Sevier County proud! I would count it an honor with great appreciation to have your vote and support to be your Sevier County Clerk in 2022."
After beginning her career at the Sevier County Clerk's Office in 1993 as a part-time high school student, Tinker began serving the citizens of Sevier County from an early age. She has worked in various areas of the office, gaining a vast knowledge of how the office operates on a daily basis.
In her time at the Clerk's office, Tinker has worked in the Title and Registration Department, registering vehicles to individuals, as well as car dealerships. She has also worked directly with the State of Tennessee in correcting registration issues so that citizens have an easier time getting their vehicles registered in the future. She has experience behind the decal window, where she worked face to face with many Sevier County citizens every day. Tinker has issued marriage licenses to many couples, from locals to out-of-state visitors, and even those from foreign countries. She has experience issuing business licenses, notary public applications and hunting and fishing licenses. Tinker currently works as the probate clerk where she assists Sevier County residents who are experiencing loss.
After attending Pigeon Forge Elementary and Sevier County High School, Tinker went right to work at the Clerk's Office. She currently attends multiple conferences per year including COAT (County Officials Association of Tennessee) and CTAS (County Technical Assistance Service).
Tinker is married to Gatlinburg native, Scott Tinker. As a blended family they have four children, Kyndal Tinker, Carly Newman, Jared Tinker and Camryn Newman. To learn more about Angie McCarter Tinker and her platform, visit AngieTinker.com.
Vote for Angie McCarter Tinker for your 2022 Sevier County Clerk! Angie Tinker: the right experience, the right choice!
Release ID: 89036334