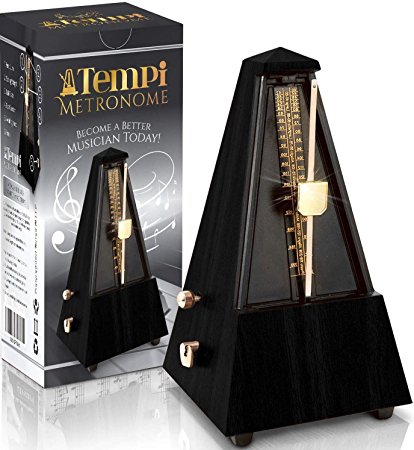 - October 24, 2017 /PressCable/ —
Halloween is almost here, so it's time to set the beat to classic spooky tunes with the Tempi Metronome for Musicians. A metronome is an essential tool for every musician. The most convenient and easiest way to obtain a metronome is to download an app or buy a digital one. However, this is not necessarily the best choice of metronome in comparison to the newly released Tempi Metronome for Musicians.
https://www.amazon.com/Tempi-Metronome-for-Musicians-Black/dp/B06XJ45FJB
What is the difference between a digital and a mechanical metronome? The sound, for a start. Digital metronomes often have several sound choices for the beat, but most are not pleasing to the ear or loud enough to pierce through the sound of an instrument. Mechanical metronomes have one sound, but it is a clear and strong "tock" that is like a woodblock. There is also a visual element with a mechanical metronome. The sight of the swinging pendulum can help a student to understand and internalize the true tempo. Most digital metronomes have a small screen or a light that shows the beat but it is not as strong a visual connection as the pendulum.
The Tempi Metronome for Musicians has a new important feature that was not on older mechanical models. The metronome can be set from 40-208 beats per minute, but also has a lever to set a beat bell at 0/2/3/4/6. Choose the time signature and pull the lever, then the bell will chime on the downbeat of each measure. This is an excellent feature to have for practicing those difficult rhythmic passages. The beat bell can also help students with their sight reading and orchestral excerpts, so they have an aural guide for the downbeat.
Made from a mahogany grain veneer with high-quality steel gears, the Tempi Metronome for Musicians is built to last. Each metronome comes with a two year warranty and 100% satisfaction guarantee. The time is now to invest in a mechanical metronome for a student, teaching studio, or professional.
For more information go to https://www.amazon.com/Tempi-Metronome-for-Musicians-Black/dp/B06XJ45FJB
Release ID: 253265