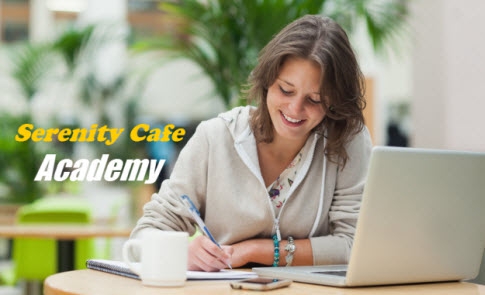 - April 11, 2016 /PressCable/ —
In a creative change of pace, self-development tools and coaching service provider "Serenity Creations Online" will be celebrating the launch of its online self-help development and learning platform, Serenity Cafe Academy. The company is offering a 50% coupon code to new students for all individual and bundled courses. It's reported the event will take place on through the end of May.
The event coupon code is: SCN9499
In a space where most competitors simply make a post on Facebook and/or Twitter and fail to cause much of a stir, Serenity Creations Online has opted to be a little more creative with it's Serenity Cafe Academy launch.
Don Carter, MSW, LCSW, Owner and CEO of Serenity Creations Online, Serenity Creations eStore, and Internet-of-the-mind.com, says: "The idea is to be really creative with the official Online Self-Help Development and eLearning Academy launch because Serenity Creations Online has a reputation for over-delivering on the most powerful tools and resources for self-development to everyone who comes looking for help and real solutions."
Carter says, "The launch will be really worthwhile, opening avenues of growth to many people, because the Academy itself is continually being loaded with powerful solutions in the hopes that students will be excited enough to pass it on to others thereby spreading peace and serenity in this face-paced, stress filled world. It should go great unless the world slows down and stress suddenly disappears from the face of the planet this month! If that miracle happens we will have something even better to celebrate!"
Serenity Creations Online has always thrived on the idea of standing out and making a commotion. It's all part of the fun and it's going to open the door for many people who might not otherwise have access to these tools, which company officials suggest is better than businesses who choose to do things the 'regular' way. This launch celebration is just one of the many ways Serenity Creations Online achieves that goal.
When asked about Serenity Cafe Academy, Don Carter, MSW, LCSW said: "It's in position to be a real hit because the Serenity Cafe Academy will grow larger larger with regular updates to existing courses and new courses being added every month for years to come. Plus, the Academy works on all Internet-connected devices, even a smartphone or tablet". Students may also download the audios, videos and other resources to a computer for personal offline use.
Serenity Cafe Academy is set to officially launch in April and the celebration will run through the End of May. To find out more, it's possible to visit http://www.internet-of-the-mind.com/serenity-cafe-…
Further information about Serenity Creations Online can be found at www.internet-of-the-mind.com
Release ID: 110078