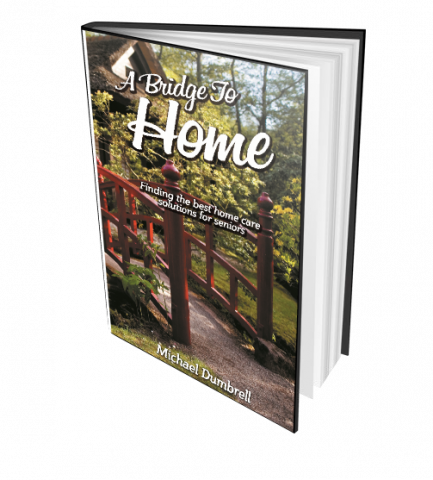 - August 29, 2018 /PressCable/ —
Owner and Senior Care Advisor Michael Dumbrell is launching his home health care book, "A Bridge to Home". The book is set to go live today, available for free by contacting the Senior Helpers Tarpon Springs office and is expected to become a big hit with families who need senior home health care in West Central Florida.
Free digital copies the book can be requested here: https://www.seniorhelpers.com/tarponsprings
This is the first book Dumbrell has authored. The book was written with the aim in mind to help readers to make informed decisions about senior home health care for their loved ones in the West Central Florida area. There's also particular excitement about this launch because it explains the many affordable options that are available to help aging loved ones to continue living in the comfort and familiarity of their own homes.
"A Bridge to Home" sets its main focus on answering the most common questions regarding the decisions about senior home health care. Readers will likely find a particular interest in the fact that the author had cared for his own mother who developed dementia, and his personal story feeds his passion for helping his clients and their families. The book's cover art was created by Timothy Ermitano and "A Bridge to Home" is being published by PerissosGroup.com.
Michael Dumbrell has a background in the construction and personal care industries. This shaped the creation of the book by combining his care for others with his hard-earned managerial skills .
When asked about why they wrote the book, Dumbrell said: "If you want to ask the right questions and make informed decisions about senior home health care for your loved one, then this book is for you."
Dumbrell has hopes that the book will encourage families of seniors in need to take advantage of the support that Senior Helpers provides, giving them a "Bridge to Home" with excellent senior home care. This positive outlook from the author is certainly testament to their optimism considering some of the challenges during its creation. At one point the author decided to give very detailed accounts of his time of caring for his disabled mother, being more vulnerable about his family life than most would expect in a book like this one.
In a recent interview, the author made a point of thanking his family members, the staff of his Senior Helpers office and his publisher, Jerry Kuzma of Perissos Group UK for their part in the creation of the book, saying: "I would also like to thank Lloyd and Stuart, my four-legged staff members for their never-ending support and wagging tails."
Those interested in learning more about the book can request a digital copy here: https://www.seniorhelpers.com/tarponsprings
Release ID: 400166