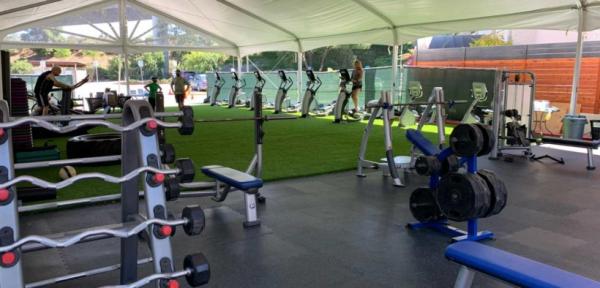 - July 28, 2020 /PressCable/ —
Creative Tent International has released a new product line specifically designed to provide more usable space for gyms and fitness clubs. Specialists that need to provide a safe environment for their members will be able to use the tents to ensure social distancing regulations are met.
For more information please visit the website here: https://creativetent.us
Creative Tent International is an American company founded in 2004 and headquartered in Henderson, NV. Their unique, USA-designed, and engineered, modular tents are now used worldwide in more than 60 countries.
They bring a wide range of cost-effective, innovative, and creative solutions to meet commercial, military, and industrial needs. Their latest application is the immediate provision of large usable areas for the gym and fitness industries.
Their high snow loading means they can continue to be used through fall and winter. These structures fully meet all requirements of the International Building Code (IBC) to offer the fitness industry new options to help them maintain and increase membership numbers during social distancing.
The company has adapted their Shasta modular system to a wide range of uses and the range now covers Shasta Shelter, Shasta Sport Plex, Fastrack, and Shasta Peak. They offer a full line of accessories including HVAC, doors, windows, LED lighting, interior insulation, solarium and open air panels, and many more unique options. The customer service provided by CTI is unbeatable. Their services include installation, strike, maintenance, and repair services.
Due to social distancing protocols, health clubs have seen a dramatic fall in income. In many cases stemming due to the loss of amenity, alternating equipment availability, and fear, monthly dues bases have been eaten away. Paused memberships, cancellations, and downgrades threaten the viability of many fitness businesses. They are also faced with the prospect of closure if their facilities are found to be filled over the recently reduced capacity guidelines.
As a result of the reduction of prime-time floor space, gyms are finding that their members are placing monthly dues on hold or cancelling memberships, reducing income still further. The increased under-roof space offered by the Fast Track structure means these gyms and facilities can allow their members to return to a facility that offers greater comfort, amenity, and overall safety.
The new line of Creative Tent International structures is easily deployed and can be erected with few tools and no foundation work. This new product line will not only help facilities maintain their full membership but will offer many increased revenue opportunities.
Those wishing to find out more can visit their website on the link provided above.
Release ID: 88970210