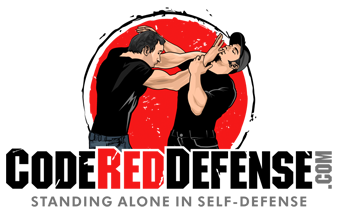 - May 16, 2017 /PressCable/ —
A YouTube video has been posted by Code Red Defense. The self defense company frequently shares online tips on their YouTube channel to help civilians protect themselves from potential criminals. The channel contains many video clips on various topics of personal protection.
Furthermore, on the channel it's possible to find videos that help women learn how to protect themselves. It's also possible to find videos on knife defense, gun defense, as well as video tutorials on how to deal with multiple attackers, how to use improvised weapons to fend off attackers and much more.
One of these videos is "Self Defense against a 6'4″ Attacker". The self defense video emphasizes on defending against a much taller attacker. It's a practical instructional video that demonstrates special techniques and tactics than can be used by someone to protect himself against an attacker that has a height advantage.
A common way that taller attackers use against their opponents is the one arm lapel grab. They basically grab their opponent by the shirt with one hand and punch with the other arm. Larger and taller attackers also use wild punches that come in with a lot of power. It's important for a practitioner of self defense to be aware of these type of attacks.
When it comes to self defense, size does matter. Larger and taller attackers often have an advantage with their size and long reach. They can also be fighters that move around with a lot of speed contrary to popular believes. It's important to keep that in mind if attacked by a tall man.
Though, being smaller than an opponent does not mean that it's automatic disadvantage in a street fight. A smaller individual can apply proven self defense techniques and movements that can be very effective in surviving a street altercation.
All of these techniques can be viewed in the self-defense video. The clip is more than 14 minutes long and provides lifesaving information that can be useful to men and women of any age.
Interested parties can learn more on self defense by visiting the Code Red Defense YouTube channel. The link of the channel is the following one: https://www.youtube.com/user/CodeRedDefenseTV
Release ID: 199412