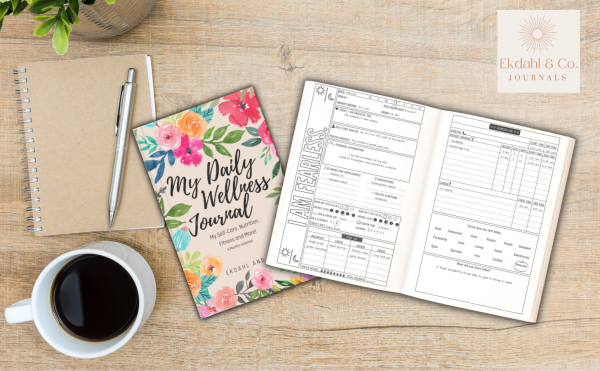 - February 15, 2022 /PressCable/ —
The latest product highlights daily writing prompts, customizable undated calendars, sketch pages, and more. The self-care journal is currently on Amazon's best-selling products list.
More information can be found at https://www.amazon.com/Daily-Wellness-Journal-Self-Care-Nutrition/dp/0578307553
The merchandise was launched to provide women with a useful tool to help them keep healthy habits and achieve balance in all aspects of their lives. Inspiring women to keep a daily schedule, the journal encourages organization and provides an outlet for reflection.
According to psychologists, journaling is an essential tool for managing mental health. It is one of the easiest and healthiest ways to deal with overwhelming emotions. It controls anxiety, reduces stress, and helps in managing depression. It's a positive way to track symptoms which aids in recognizing triggers and learning how to regulate them.
Writing in a journal helps people express themselves freely. This facilitates the release of pent-up thoughts and negative emotions. It provides the writer the opportunity to examine their feelings and reflect on them to bring about comfort and clarity.
"My Daily Wellness Journal" was designed with women's needs in mind. It features sections such as daily meals and exercise, gratitude, self-care, goal-setting, sleep patterns, screen time, vitamins and supplements, mood, weight, water intake, and sun exposure. It has daily writing prompts to encourage them to pay attention to self-care through fitness and nutrition trackers, listing things to be grateful for, new learnings, identifying feelings, self-expression sketches, and prayer requests.
The new cover design features painted flowers in calming pastel colors. The journal contains 406 pages or 180 days/6-months' worth of entries. Two pages are allotted for each day's reflection. The undated design lends the writer the freedom to choose when to start their journaling journey. Visit https://www.instagram.com/ekdahlco for more information.
According to a satisfied customer, "This journal has a place to record everything you need for daily wellness. For me, it's been the key to developing a good routine and keeping track of my progress. I didn't even have to wait for a New Year's resolution."
Interested parties may purchase the journal by visiting https://ekdahlco.com
Release ID: 89064375