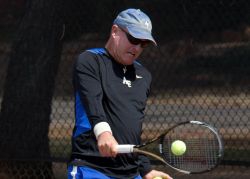 - October 27, 2015 /PressCable/ —
PRESCOTT, AZ: Sedona resident and United States Professional Tennis Association (USPTA) Master Professional, Larry Lineberry, was inducted on October 25th into the inaugural class of the Tennis Park of Fame in ceremonies held at the Yavapai College Tennis Complex Sunday, in Prescott, AZ.
Details about the award can be found on Lineberry's website at http://larrylineberry.usptapro.com/.
The Tennis Park of Fame was created by the Prescott Area Tennis Association and Yavapai Community College as a way of recognizing and honoring the accomplishments of individuals in the sport of tennis. The category levels of consideration are service at the levels of: National, Southwest Section, Northern Arizona and Prescott.
Lineberry was inducted for his contributions and activities across Northern Arizona. The other inaugural inductees include; world renowned tennis ambassador, author and innovator, Vic Braden (posthumously); Phoenix teaching professional and player, Brian Cheney and his family, mother Dodo and grandmother May Sutton Bundy; Phoenix resident, player, educator and coach Peter Bronson; John Byron of Scottsdale a veteran tennis industry professional in a wide variety of specialties; George Reynolds, a long time Prescott resident largely responsible for organizing and growing tennis in Prescott and Fay Matsumoto, a player and valuable contributor to Prescott tennis in her area for many years.
Each inductee will have a large brick placed in a specific area of the Tennis Park with their name and brief words inscribed as well as their year of induction. Lineberry, a 25 year resident of Sedona, has been a certified United States Professional Tennis Association teaching professional for 40 years. He holds the USPTA's highest rating of Master Professional, which is held by less than 1% of the over 15,000 USPTA professionals worldwide.
Lineberry was director of tennis at the Sedona Racquet Club (SRC) for most the time since his arrival to Sedona in 1991 until the close of SRC in 2012. During that time, Lineberry directed dozens of high level sectional tennis tournaments which drew thousands of people to the Verde Valley. He also promoted and directed 6 United States Tennis Association (USTA) Challenger tennis tournaments featuring prize money totaling $250,000 which drew world class tennis professionals from over 30 countries to Sedona.
It is estimated that Lineberry's tennis activities created over 1.5 million dollars in economic impact to the Verde Valley. Lineberry served as president of the Northern Arizona Tennis Association for 4 years and wrote grants totaling over $25,000 to start 10 & under tennis programs across northern Arizona. Additionally, in 1997 and 2011, Lineberry conceived and promoted musical concerts by lifelong friend and three time Grammy award winner, Bruce Hornsby, which raised money for the Boys and Girls Club in Sedona (1997) and junior tennis in northern Arizona (2011).
Lineberry has coached dozens of juniors who have earned over $300,000 in tennis scholarships including an NCAA champion, a United States OPEN junior champion and two world ranked players. He has been selected by the Southwest Tennis Association to coach the teams in national competition 6 different times since 2007.
"To be included with the caliber of individuals such as Vic Braden and good friend, Brian Cheney, as well as the other inductees is a real honor" said Lineberry.
Lineberry's work has been a labor of love all of these years and to have been of service and brought some enjoyment to those is a blessing. It is privilege to be part of this magnificent sport."
Persons interested in learning more about Larry Lineberry Tennis and the award can visit the website at: http://larrylineberry.usptapro.com/.
Larry can be reached for tennis lessons at (928) 300-5394 and by email at: lineberrytennis@gmail.com
Release ID: 95044