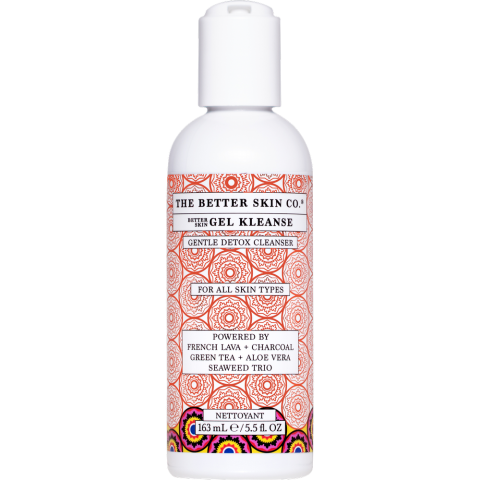 - January 21, 2022 /PressCable/ —
The Better Skin Co.'s latest launch offers customers an all-natural alternative to the many toxin-heavy beauty products on the market today. The company's Gel Kleanse is suitable for all skin types, providing nourishment and hydration in an easy-to-apply solution.
More details can be found at https://thebetterskinco.com/products/pre-order-gel-kleanse?_pos=1&_sid=a0865b293&_ss=r
The announcement details a wide range of benefits for those seeking a simple way to give their skin the moisture it needs to stay fresh and youthful. Gel Kleanse is a cruelty-free product and is made exclusively in the USA.
According to the Indian Journal of Dermatology, cleansers are surface-active substances that work by lowering the surface tension of the skin. Many popular beauty products are not water-soluble, necessitating the use of more than just water to remove creams, make-up, and a host of other environmental impurities that build up throughout the day. Cleansers achieve this without causing damage to the skin.
Gel Kleanse contains charcoal to help detoxify and draw impurities out of the skin. The addition of French Lava sloughs away dead cells and other debris from the pores while green tea and aloe provide a soothing and softening balm. A seaweed trio with added vitamin C also helps to improve overall skin health and appearance.
The Better Skin Co. recommends the product to be used twice daily – once in the morning and again at night. Gel Kleanse is simple to apply – requiring just a little water to make lathering easy – and is also paraben-free, gluten-free, and vegan-friendly.
About The Better Skin Company.
Formed in 2015 by Natalya Rachkova and Murphy D. Bishop, the company has garnered a reputation for affordable and proven beauty products. The Better Skin company was initially founded to promote Natalya's unique skincare recipe which formed the basis of what became its flagship Better Skin Mirakle Cream.
A spokesperson says, "We work hard to bring effective, multi-purpose, and beautiful products to market so that everyone can radiate their best skin. Our products are filled with love, history, beautiful ingredients, a bit of science, and a good measure of great karma."
With its latest Gel Kleanse product updates, The Better Skin Co. affirms its reputation as a premier purveyor of unique personal care solutions, harnessing the best of nature to revitalize tired skin.
For more information, please visit https://thebetterskinco.com/products/pre-order-gel-kleanse?_pos=1&_sid=a0865b293&_ss=r
Release ID: 89061167