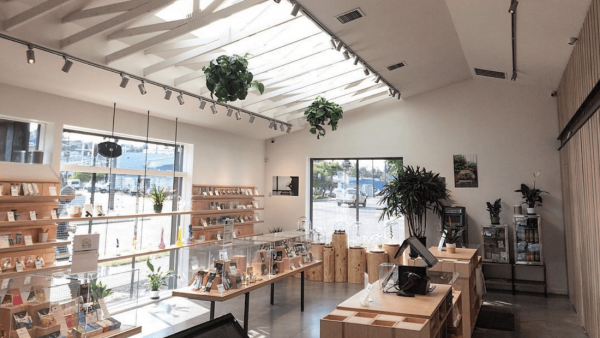 - May 15, 2019 /PressCable/ —
Seattle, Washington- Top dispensary in the buzzing Ballard neighborhood of Seattle, Washington, Dockside Cannabis has a convenient option on their website for those looking to pre-order their curated cannabis goodies.
Dockside Cannabis, Seattle Dispensary has included an online, pre-order form for those looking for the luxury and convenience of discreet online ordering. The online ordering option can be found on the homepage of the Seattle dispensary website https://www.docksidecannabis.com/. Cannabis connoisseur's around the Seattle area can start their online pre-ordering by selecting which Dockside cannabis location is closest to their home or work and proceed to view the menu and list of available products for pre-order.
The online menu includes:
Flower- Sativa, Indica, CBD, and Hybrid Strains
Prerolls- Great for those who haven't perfected their rolling skills, as well as veterans looking to outsource their rolling or those curious about upgrading their typical joint. Varieties include enhanced or classic pre-rolls.
Vapor- Vaporizers are a convenient, subtle, and potent alternative method of consumption for folks looking for discretion, or for those looking to dip their toes into exploring the world of cannabis concentrates.
Concentrates- Cannabinoids and scent/flavor compounds are extracted, purified, and condensed to create potent and versatile cannabis concentrates. Concentrates offer a wide variety of potencies, consistencies, and methods of consumption.
Edibles and Beverages- Cannabis edibles are usually felt within 30-45 minutes, but can take up 2 hours depending on the person and can provide a complete mind and body experience in a delectable package. Infused beverages offer a delicious way to experience cannabis and are also generally felt within 30-45 minutes, but can take up to 2 hours depending on the person.
Tinctures/Topicals- Cannabis tinctures are potent, and highly discreet products which provide a more immediate experience that can usually be felt within 10-15 minutes of ingestion, these are a great alternative to edibles, smoking, or vaping. Topicals which are lotions, balms, and oils are absorbed through the skin for direct effects on specific areas of the body. The Lotions, balms, and bath products are non-psychoactive and provide body relaxation with no mind-altering effects.
Any and all of the highly potent, first class products on the online ordering menu are also available in-store, and any interested parties are encouraged to stop by the Ballard dispensary to inquire more about all of the amazing inventory at Dockside Cannabis.
The Dispensary in Ballard is located at 4601 Leary Way NW, Seattle, WA 98107
They are open Mon-Sat 9:00am-11:00pm, and Sun 9:00am-10:00pm
The dispensary can be reached at 206-531-0156
Release ID: 513117