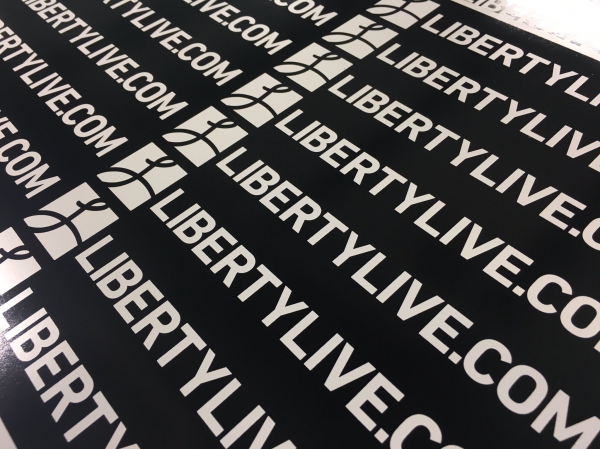 - March 29, 2017 /PressCable/ —
The Graphics Shop (TGS) recently screen printed 10,000 two-color magnets for Liberty Baptist Church. Based in Chesapeake, VA TGS specializes in industrial screen printing services such as decals, magnets, labels, signs and other custom applications. The magnet screen print project was part of Liberty's preparations for 2017 Easter weekend.
The screen print process for this particular project required 11 rolls of 24″ x 50′ white magnetic material which was cut down to 490 12″ x 27″ sheets. Black ink was printed on the white magnetic material and the 12″ x 27″ sheets were cut individually to a 1.375″ x 8.5″ final size.
This screen print project also included 3,000 window clings of the same finish size of 1.375″ x 8.5″. The window cling project required 26 sheets of 8 mil static cling clear material.
The benefit of utilizing a screen print magnet as compared to another type of print comes down to longevity. A screen print magnet will last significantly longer and maintains a higher quality finish. Screen print inks actually bond to the material it is applied to and results in a longer lasting product. The ink and material combination used in this project is expected to last between two and three years without fading.
About Liberty Baptist
Liberty Baptist Church is based in Hampton Roads, Virginia with locations in Hampton, Chesapeake, Suffolk and Williamsburg. Liberty is led by Senior Pastor, Dr. Grant Ethridge. He served as President of the National SBC Pastors' Conference, as President of the Arkansas Baptist Convention, as President of the SBC of Virginia, and on many other state and national boards and agencies.
Dr. Ethridge became Senior Pastor at Liberty in 2006. Since that time, the church has baptized over 4,200 people and has been frequently recognized in the Top 100 Fastest Growing Churches in the U.S. In 2013, a second campus was opened in Suffolk, VA, and a third campus was opened in Chesapeake, VA in 2015. Liberty is a multi-cultural, multi-generational, multi-site church.
About TGS
The Graphics Shop is a veteran-owned small business (SWaM) located in the Hampton Roads region of Virginia. TGS has a long history in the UV screen print business, and more than 10 years in the sign business. In addition, TGS also provides custom vehicle wrap design and installation. As a custom printing and sign shop, TGS offers numerous advertising products to assist businesses in promoting their products and services.
Release ID: 181361