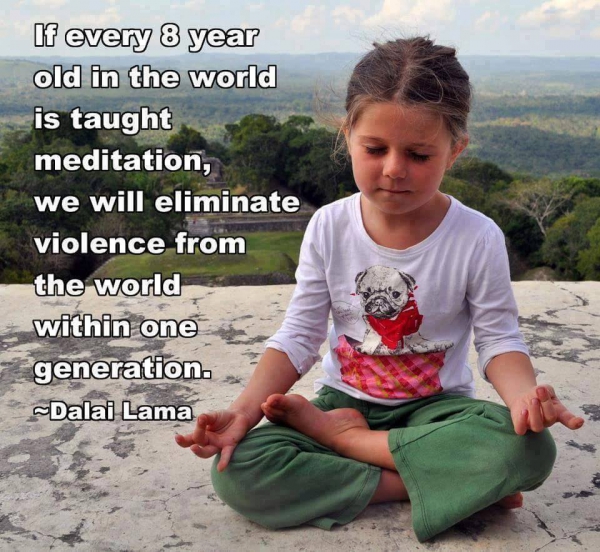 - October 21, 2016 /PressCable/ —
MeditationTalks, a new emerging webpage and community dedicated for everybody who practices mindful meditation and yoga, or is curious enough to start with, has issued a new article that analyzes the relation between violence in our society, and the lack of mindful activities like learning how to do meditation. Further on, the article highlights some good practices, for instance ones where US schools are replacing detention with meditation exercises. Readers can view the article in full here: http://meditationtalks.com/schools-replacing-detention-with-meditation-the-future-we-want/
The articles tackles the relation between violence and meditation from multiple number of perspectives, recalling also to Dalai Lama's message after the Paris Attacks of November 2015, when the Tibetan spiritual leader have even claimed that humanity bears part of the responsibility for the emergence of global terrorism.
"Let us work for peace within our families and society, and not expect help from God, Buddha or the governments", were the Dalai Lama's words after the hazardous event in Paris when more than hundreds of people were killed, and which caused a chain of reaction and viral usage of the #PrayforParis hashtag over the social media.
The article proceeds with questions that will make readers think on the relations between human evolution, progress, learning how to do meditation and being prone to violence, "Would all unrest in the world stop then, if just each and everyone would sit down for 10 minutes per day to do some meditation exercises; close their eyes and seek the answers that are locked within their heart and mind?" are some of those questions.
Further on, the article highlights some good practices of free meditation exercises – for instance where schools are replacing detention with meditation, teaching kids how to do meditation. That resembles a positive practice with the ability to reinvent the educational system, hence also prevent development of violent behavior among young people at a very early age. That is further supported with other studies that reveal also other benefits from doing meditation exercises. Readers can inform more about it by going through the full piece at MeditationTalks.
There is a personal story behind the launch of MeditationTalks and why the emerging of such website and community. Dominique Ng, the creator of MeditationTalks in discussions of how this community for meditation practitioners was launched, shared: "I have been doing meditation exercises when I was a child growing in Vietnam without really being aware of what I was exactly doing, or if I was doing it right. I was raised in a Buddhist family, so naturally meditation was part of my daily life. I have grown to understand what meditation really means over the years, however a recent divorce was a huge catalyst for me to dig deeper into the meditation power, as I was looking for remedies to ease the pain, grieve and consequently to heal my heart and soul."
Readers are most welcome to visit the original webpage and go through the article. Everyone who has a question related to mindful meditation, yoga or related techniques can approach the team at their official webpage: http://meditationtalks.com/ Readers are also invited to discuss and express their opinion whether practices where schools replace traditional detention with meditation are something they would further encourage or not, or they can also seek information on how to do meditation individually or through specific educational programs.
About Meditation Talks
MeditationTalks is a news site that features all latest evolutionary news, information and videos that illustrate how meditation is having a powerful impact in shaping peoples' lives. Yoga, Astrology, Meditation are just part of the topics that readers can stumble across the new evolving website and community. The team of MeditationTalks is set on a mission to celebrate, appreciate and transfer the knowledge that humanity inherits since the ancient times, and is determined to work on bringing mindful meditation closer to young people over the USA and beyond.
Readers are encouraged to follow through the article and make their comments in the opinion section of the webpage. The article can be viewed in full here: http://meditationtalks.com/schools-replacing-detention-with-meditation-the-future-we-want/
Release ID: 139792