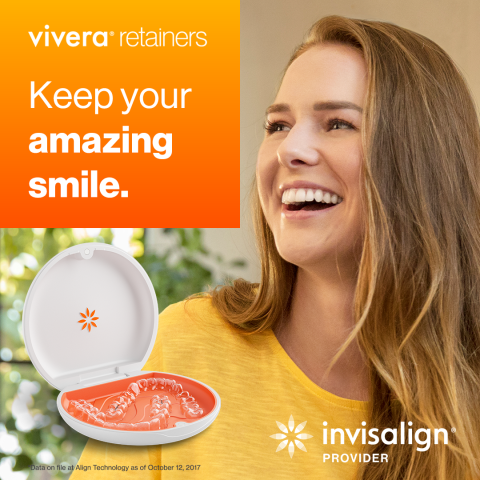 - July 30, 2021 /PressCable/ —
Sbenati Dentistry today announced that customers looking to buy their next invisible retainer are now able to purchase their own Invisalign's Vivera retainer from Sbenati Dentistry.
Everyone within the business was excited when the product launched, especially since those within Sbenati Dentistry feel that "protecting patients smiles is of the utmost importance, these aligners allow for the protection of their smiles and their future wallets."
Dr. Halim Sbenati, Owner, Doctor of Dental Surgery at Sbenati Dentistry, when asked about Invisalign's Vivera retainer said:
"Vivera retainers are a great way to maintain and protect the beautiful, straight smile patients have achieved through orthodontic treatments. These aligners are not specific to Invisalign, a patient who had braces in the past can use these aligners to halt teeth from returning to their previous position."
Consumers active in the Dentistry market will be interested to know Invisalign's Vivera retainer was been developed with those who have recently completed an orthodontic treatment in mind.
For example, it features "protecting patients investment in Invisalign". Dr. Halim Sbenati said "This was important because retainers prevent teeth from gradually shifting back to their previous positions after completing an orthodontic treatment. This will be great news for our buyers because proper retainers and maintenance of those retainers will protect patients investment made into their straightened smiles, and also save them money down the road."
Invisalign's Vivera retainer will also include instructions about the length of time wearing Vivera retainers post treatment. This was included because for the first 6 months of wear time, the retainers should be replaced twice. Then going forward the patient will switch to night time wear only. Night time retainers will last an average of 9 months each. At a certain point, patients will only need to wear the night time retainers for several nights out of the week. Consumers should be pleased with this since this insures that the amazing teeth correction made during the initial treatment is not wasted. Keeping the progress made, Vivera retainers provide another comfortable solution to prevent teeth from shifting back to the position they were in before treatment.
One final piece of information being released, states that the new invisible retainers are comfortable and versatile – Developers decided this was critical to the final product because they are made by the same team that makes Invisalign clear aligners. Studies show that Vivera retainers are 30% stronger and 2 times as durable when compares with other aligners. Also, Doctors who have used Vivera are more satisfied with these retainers than with others.. Customers should enjoy this particularly, as this means a greater lifespan, fewer complications, replacements and re-orders. All of this equals a higher rate of satisfaction with protecting patients Invisalign investment.
Those interested in learning more about the business can do so on the business website at https://www.sbenatidentistry.ca/
Those interested in purchasing can go directly to the product listing, here: https://www.sbenatidentistry.ca/invisalign-london-ontario/
Release ID: 89039400