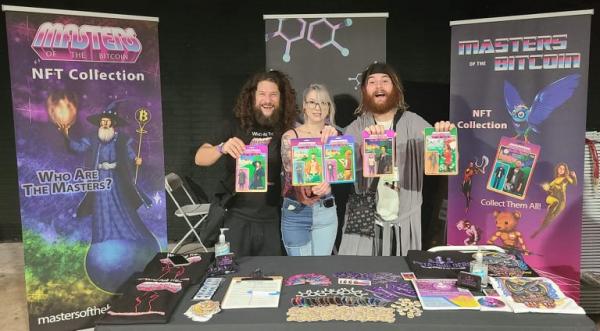 Vancouver,United States - May 4, 2022 /PressCable/ —
The new NFT collection will feature 21,000 unique digital assets backed by the WAX network, each individually representing a renowned hero or villain from the crypto community. These tokens will be fully tradable on WAX beginning mid-May 2022, following the World Bitcoin Conference in Miami, FL.
To learn more, visit https://smart752.substack.com/p/who-are-the-masters-of-the-bitcoin?
This new collection has been announced to celebrate the achievements of the crypto community and of Satoshi Nakamoto more specifically. Each token features a depiction of a cryptocurrency icon reimagined as an action figure, complete with packaging and background art.
Satoshi Nakamoto has been heralded as the creator of Bitcoin and author of the original whitepaper that inspired the entire cryptocurrency industry. While his name is pseudonymous, he has emerged on various occasions to publish opinion pieces on the past and future of crypto, and is regarded as one of the top authorities on cryptocurrency at large.
Nakamoto's achievements gave rise to the blockchain as it currently exists, which is why the creators of the "Masters of the Bitcoin" collection have chosen to celebrate him. The new collection will proceed to release following a more limited run, which will be minted at the Bitcoin Conference event itself.
Many of the characters featured in the collection reference the culture and history of cryptocurrency by depicting figures unique to crypto lore. Aside from Nakamoto himself, the creators have also chosen to depict various "meme" characters from the online crypto community, as well as making reference to other NFT collections.
Individuals who collect over 30 of these assets will have the opportunity to create their own custom hand-drawn packaged action figure NFT. There are also future plans for these tokens to become playable characters in an as-of-yet undeveloped Metaverse digital world, where these NFTs would act as avatars.
The team behind this project are committed long-time fans of cryptocurrency and the culture surrounding it who believe that the community is worth investing in. The project reflects their enthusiasm for the history of crypto and also seeks to encourage community involvement as the crypto community continues to grow, change and adapt.
To find out more, visit https://www.mastersofthebitcoin.com
Disclaimer: The information provided on this page does not constitute investment advice, financial advice, trading advice, or any other sort of advice and it should not be treated as such. This content is the opinion of a third party and this site does not recommend that any specific cryptocurrency should be bought, sold, or held, or that any crypto investment should be made. The Crypto market is high risk, with high-risk and unproven projects. Readers should do their own research and consult a professional financial advisor before making any investment decisions.
Contact Info:
Name: Mike Smart
Email: Send Email
Organization: Meta-Builders
Address: 5500 Northeast Fourth Plain Boulevard 34, Vancouver, WA 98661, United States
Website: http://meta-builders.com

Release ID: 89074433