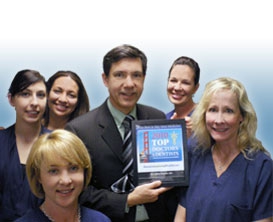 - October 20, 2017 /PressCable/ —
Dr. Jeffrey Riopelle, an accomplished and highly experienced Pleasanton cosmetic surgeon, has released a new video explaining CoolSculpting, a top-notch cosmetic procedure. It is a non-invasive, safe and scar-free procedure that delivers excellent results to patients and approved by the FDA.
CoolSculpting is very different from previous fat-removal procedures such as liposuction, which require a surgical procedure. Instead, CoolSculpting uses a device that eliminates fat cells by freezing them. Once this is done, the body naturally gets rid of the fat over the next three months.
In the video, one of his staff members explains the CoolSculpting procedure as "…non-surgical, you get no incisions, you come in and out…", highlighting the benefits of CoolSculpting, which distinguishes it from other cosmetic fat-removal procedures. She further explains that when she underwent the procedure on her abdomen, she went two sizes down. The full video may be viewed here: https://www.riopellecosmetic.com/coolsculpting.html
Dr. Riopelle was part of the team that carried out the initial studies for the company that created CoolSculpting (Zeltiq). As part of its work, the research team collected safety data before the technique was released to the public. The exposure he got during the initial tests as well as the fact that he has performed over 3,500 fat-removal procedures set him apart as an expert in this specialty.
Dr. Riopelle expressed his confidence in the procedure and said "I'm extremely happy with the results. Patients get 25% or more fat removal. It's a huge problem solver."
Dawn Greene gave her review of CoolSculpting and said, "I think it's a breakthrough technology. It delivers results and I think that the sky is the limit."
Dr. Riopelle's passion and favorable results have seen him featured on the CBS and NBC News to talk about new medical findings and advances. He is also an author and has written several articles related to his practice.
Dr. Riopelle is often invited by large medical companies to participate as a research consultant in different projects. These companies include Thermage, the creators of Solta, as well as Zeltiq, the inventors of the CoolSculpting treatment.
Other non-invasive fat removal techniques that Dr. Riopelle offers at his practice are Contour Light, Lipodissolve, Vasershape and Zerona. His practice has been performing these procedures for years.
More information about CoolSculpting and other services offered by Dr. Riopelle can be found at https://www.riopellecosmetic.com
Release ID: 246891