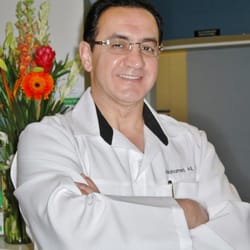 - January 13, 2017 /PressCable/ —
SAN FRANCISCO, CA (January, 13 2016) – Bay Area's most sought after dentist, Dr. Mohamed Ali, is offering a free Philips Sonicare Flexcare Platinum Connected toothbrush.
The toothbrush, worth $220, is the most advanced product of the Philips Sonicare line and is available to new patients who are getting a full mouth x-ray, dental exam and cleaning. The Philips Sonicare Flexcare Platinum Connected toothbrush boasts smart sensor technology with location, pressure and scrubbing sensors that sends a user's brushing data to the Sonicare app via Bluetooth. Together these features, with the help of the app, make it easier for users to set and achieve daily brushing goals. It also helps them to focus on spots in the mouth that require more attention.
Commenting on the motivation for this offer, Dr Ali explained: "It's not always easy to stay away from sweets and some people might find it difficult to schedule time for thorough tooth brushing. It is our hope that this smart toothbrush will motivate people to maintain good oral health throughout their busy lives."
Dr. Ali has established a solid reputation for excellent dental care services in San Francisco. He offers a range of services including teeth whitening, dental implants, root canal, invisalign orthodontics and wisdom teeth extraction, full mouth reconstruction, cosmetic dentistry and more.. Also hailed as a dental implants specialist, Dr. Ali recently received a patent for Meta Implants technology – a procedure that provides patients with immediate replacement of their teeth even if they need a bone grafting procedure.
Based in Bay area of San Francisco has established a reputation for providing excellent dental care and customer service to patients. One patient, Kimberly C. summed up her overall experience at the practice. She said: "Dr. Mohamed Ali offers the very best care! Dr. Ali is the best in restorative dentistry. He is compassionate, thorough and never rushes to complete any procedure."
Another patient, Brooke Eadie has said: " Dr. Ali and his staff are AMAZING. I have always been afraid of the dentist and have had some real bad experience. Not with Dr.Ali. He is very kind and caring and go the extra mile to make sure that you are comfortable. I no longer get anxiety or avoid going to the dentist out of fear. Thanks to Dr. Ali !!!".
Dr. Mohamed Ali accepts most of PPO dental insurance plans. For further information about veneers, please visit: http://www.malidds.com/
Dr. Ali has a limited supply of the Philips Sonicare Flexcare Platinum Connected toothbrush. Consequently, individuals who are keen on taking advantage of this amazing offer are encouraged to book their visit early. For further information, visit: http://www.malidds.com.
Media Contact: Dr. Mohamed Ali, DDS
Telephone: 415.391.7751
Email: drali@malidds.com
Website: http://www.malidds.com/
Address: 450 Sutter St, Suite #1905 San Francisco, CA 94108 Call Today: 415.391.7751
Release ID: 161321