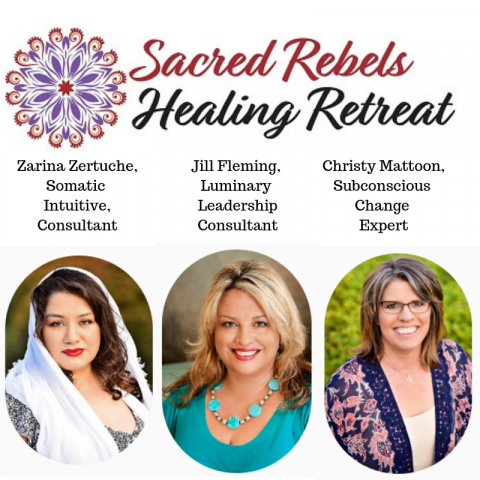 - March 16, 2019 /PressCable/ —
Midway, UT subconscious change therapist practice Mind Rewire announced the Sacred Rebel Healing Retreat for people wanting deep healing and understand how to change the subconscious. The San Diego personal healing event is scheduled to take place from the 5th through the 7th of April, 2019 in Carlsbad, CA.
More information about Mind Rewire is available at https://www.mindrewire.com
The subconscious energy healing event will be led by certified energy psychologist and spiritual coach Christy Mattoon of Mind Rewire, clarity catalyst and leadership coach Jill Fleming, and yoga teacher Zarina Zertuche. The event will guide participants through techniques to achieving mental, spiritual, physical, and emotional alignment.
More information about the Sacred Rebel Healing Retreat is available at https://sacredrebelretreat.com. The event will be held at Cape Rey Carlsbad Beach Resort with early check-in commencing on the 4th of April at 6 PM.
The event caters to individuals who face feelings of deep stress, personal & professional frustration, fear, and other negative states. The Sacred Rebel Healing Retreat offers an opportunity to learn spiritual techniques to harness positive energy and build small communities of support.
The event will also feature active resetting meditations, yoga practices, and support to help participants make personal decisions about their nutrition, dietary supplementation, social connections, reading material, and teachers. The Sacred Rebel Healing Retreat team has announced a limit of 50 participants with early bird and general admission options available while booking tickets.
Lunch will be provided on the first two days with healthy, gluten-free, paleo, and vegetarian options. Core sessions are scheduled between 9 AM and 8:30 PM on the 5th of April and between 8:30 AM and 8:30 PM on the 6th of April.
According to a spokesperson for Mind Rewire and the Sacred Rebel Healing Retreat, "We look forward to helping participants to receive life-changing awareness, broaden your intuition, build knowledge, strengthen their understanding of their spirit, and engage with an amazing community of Sacred Rebels."
Mind Rewire is headed by Christy Mattoon, a licensed energy psychology practitioner, nutrition specialist, and Neurokinetic Therapy Certified Practitioner. More information about Mattoon and the Sacred Rebel Healing Retreat is available at https://youtu.be/1HvOxS6ZI4w and at the URL above.
Release ID: 492951