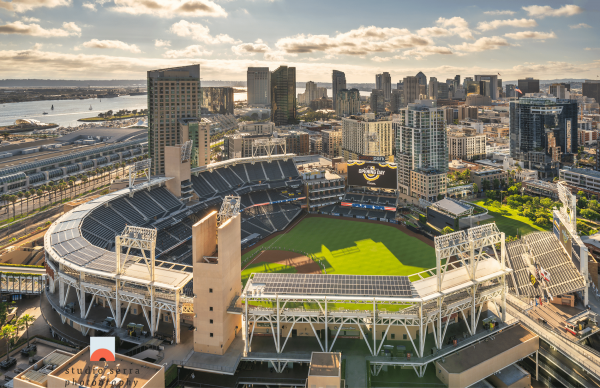 - July 31, 2020 /PressCable/ —
The San Diego Padres triumphed over the Arizona Diamondbacks Friday evening in their season opener at Petco Park in San Diego, California. The Padres lined up to play the Diamondbacks for a season opener stalled 120 days by the COVID-19 pandemic. The start of the Padre's 52nd season took place in a historically empty Petco Park, with only cardboard cutouts of loved ones and fans in the seats to take in the team's 7-2 victory over the Arizona Diamondbacks.
Padre fans were unable to attend the game under public health directives prohibiting public events and gatherings due to the pandemic. The coronavirus outbreak wiped out the March 26 start to the regular season. That included the San Diego Padres opening day game that was originally against the Colorado Rockies.
Award-winning San Diego photography studio, Studio Serra Photography, captured stunning aerial photographs of the unprecedented event. The photographs showcase the architecturally magnificent Petco Park, home of the San Diego Padres. The photography can be seen online at https://studioserraphotography.com/san-diego-padres-at-petco-park.
Petco Park opened in downtown San Diego in 2004 combining the best sight lines in baseball with breathtaking views of San Diego. The $450 million stadium has a Southern California appearance with its white steel and sandstone facade with palm/jacaranda trees placed along the perimeter. Leading up to the entrance of the ballpark, fans pass by a palm court and water walls. "Architecturally magnificent, it celebrates the sea, the sky, the natural beauty, cultural diversity and unique spirit of our region."
See the photographs taken during San Diego Padres Opening Day 2020 at https://studioserraphotography.com/san-diego-padres-at-petco-park. The Padres are the only MLB team that does not share its city with another franchise in the four major American professional sports leagues. The Padres are the only major professional sports franchise to be located in San Diego, following the relocation of the Chargers to Los Angeles in 2017
About Studio Serra Photography
Studio Serra Photography is an award-winning photography studio headed by professional San Diego photographer, Scott Murphy. Studio Serra Photography specializes in landscape, beachscape, commercial, and portrait photography in Southern California. To view Studio Serra Photography's portfolio of fine-art photography, visit https://studioserraphotography.com/.
Release ID: 88970746