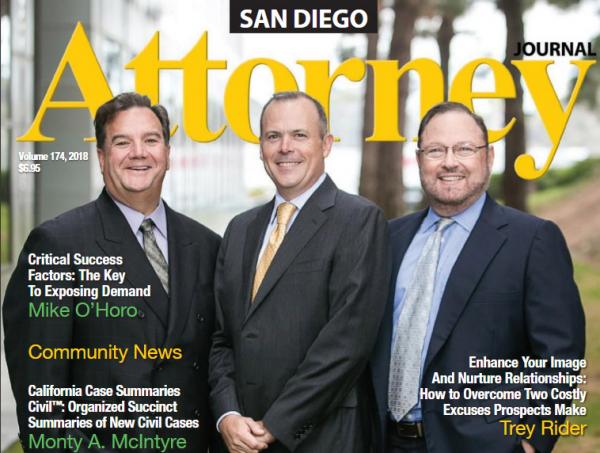 - March 29, 2018 /PressCable/ —
California Estate and Elder Law, LLP, a San Diego estate planning firm, has a new feature article in San Diego's Attorney Journal publication about how they view estate planning and why it is so important. The article can be located in Volume 174, 2018 of Attorney Journal San Diego.
Scott Stewart, partner with Joseph Strazzeri and Steve Mancini in CEEL explains that, "this planning approach often includes the issue of benefits planning and accessing various benefit programs that can assist with long-term care costs. California Estate and Elder Law's practice areas include: traditional estate planning, elder law, and estate administration or probate. Our unique value proposition is in elder law and our elder law process. We believe legal documents should be the outcome of a great planning process. Effective planning is as much or more about preserving family relationships as it is about preserving family assets. To preserve relationships, we believe in the need to explore a client's aspirations for their future."
CEEL believes documentation is a key element in all the processes. In addition, they are completely process-oriented. Every single department within all the firms has detailed processes. Along with attention to detail in their processes, unwavering compassion and support toward their clients are the most important things to the partners of CEEL.
About California Estate and Elder Law, LLP
CEEL focuses on traditional estate planning and elder care planning. They address the spectrum of planning and focus strategies and tactics on likely possibilities between the moment the client arrives at their offices and the end of life. All told, CEEL gives a voice to the family member's future for those times in life when they may have a decreased capacity to articulate their wishes and values – and for when their aspirations must live from the printed page.
For more information about California Estate and Elder Law, LLP, check them out online at estate-elderlaw.com
Release ID: 321950