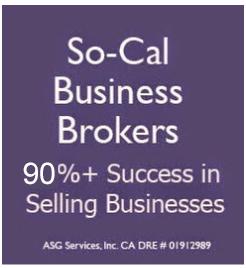 - October 27, 2020 /PressCable/ —
As part of Barry Evans's ongoing effort to improve the brokerage services offered to clients, the San Diego-based business broker has joined up with Tyler Evans at the brokerage firm, So-Cal Business Brokers.
So-Cal Business Brokers is known as representing sellers only, with no up front fees. With over 400 transactions closed and a 90% success rate throughout the industry, it has a history of serving its clients well. So-Cal Business Brokers places a part of the reason for their success in selling businesses in the fact that they have the experience of running many businesses.
Full details about the addition can be viewed in video on the website: Business Broker San Diego
Barry Evans spoke highly of the match. "Tyler is an excellent addition to the team and brings his Harvard Education and years of business management". And that's saying a lot since Barry is know for being to the point, so much so that he doesn't try to sell you on his services. When he says "If you're looking for a sales pitch I'm afraid I'm going to disappoint you" it means just look at the results and experience. That's the same type of straight forward attitude he took with bringing Tyler onto the team. Tyler's experience and education are a welcome addition to So-Cal Business Brokers.
Tyler's addition will help provide brokerage services for Manufacturing, Service and Distribution in particular, but all people who need brokerage services are welcome. So-Cal specializes in selling businesses in these industries as well as those in the Internet. Businesses that maintain a market cap between $500,000 and $10 Million are entertained by the firm but they do not service retail stores, start ups, or motels.
All those with questions are invited to get in touch with Barry Evans via the website, https://so-calbusinessbrokers.com.
Release ID: 88982689