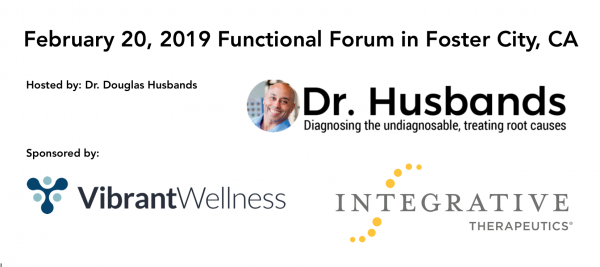 - February 8, 2019 /PressCable/ —
Douglas Husbands DC IFMCP CCN Hosts Autoimmune Forum in the next Functional Medicine Meetup for Health Professionals
February 6, 2019 San Carlos, CA – Dr. Douglas Husbands, a Functional Medicine practitioner, is pleased to announce the next Functional Forum topic will be about the connection between autoimmunity and gut health. This forum will be held on February 20, 2019, from 6:00-8:30 pm in the Port Room of the Foster City Community Center in Foster City, CA.
The Functional Forum is the largest integrative and functional medicine meetup held regularly in different cities around the world. Metropolitan areas may have multiple meetups, such as the San Francisco Bay Area that has at least 6, including the one in Foster City. The meetups are held a few times a year to once a month depending on the host of the forum.
Dr. Husbands hopes that with this announcement, more healthcare professionals will join.
With the growing number of people with autoimmune disorders in the United States, Dr. Husbands believes that all practitioners that deal with chronic diseases need to be aware of the gut origin of autoimmune disorders. According to renowned immunologist, Dr. Yehuda Schoenfeld, the mosaic of autoimmunity includes 4 factors: (1) immune deficiency, (2) genetics, (3) environmental and (4) hormonal. "Knowing this, and understanding the root causes are key to diagnosing and successfully treating autoimmune conditions," Dr. Husbands added.
When asked why would a healthcare practitioner attend a Functional Forum, Dr. Husbands says, "It's an educational event where a health professional can learn and network with other practitioners. It is free to join, and dinner is typically provided." These meetups are typically sponsored by companies that support the education of health professionals. This upcoming forum is sponsored by Vibrant Wellness Laboratory and Integrative Therapeutics, Inc. Vibrant Wellness Laboratory is a CLIA & CAP certified laboratory located in San Carlos, CA. Integrative Therapeutics is a manufacturer of science-based nutritional supplements, focused on helping integrative medicine professionals cultivate healthy practices.
For more information about this meetup visit https://www.drhusbands.com/events/.
For questions or to arrange an interview with Dr. Husbands contact:
Contact: Douglas Husbands DC IFMCP CCN
Address: 1168 El Camino Real, San Carlos, CA 94070
Phone Number: (650) 394-7470
For More Information: http://www.drhusbands.com/
About Dr. Douglas Husbands: Dr. Husbands is a Doctor of Chiropractic, an Institute for Functional Medicine Certified Practitioner and a Certified Clinical Nutritionist who specializes in gut health, autoimmune disorders and mold illness. He is also an expert in the Cox Technic, a non-surgical treatment for herniated disc and sciatica. He obtained his Doctor of Chiropractic degree at Cleveland Chiropractic College. Dr. Husbands has been in practice for over 28 years.
Release ID: 480045