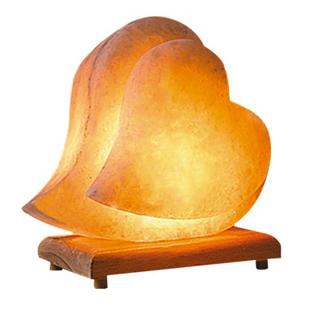 - September 28, 2016 /PressCable/ —
Useful Innovation Home Air Purifiers has released its new hand-carved Heart Shape Himalayan Salt Lamp Ionic Air Purifier. The natural organic salt lamp set on a Neem tree base emits negative ions into the air to purify and help improve air quality.
More information on the Heart Shape Himalayan Salt Lamp can be found on the website at: http://usefulinnovation.com.
The World Health Organization (WHO) reports that 3.8 million premature deaths annually from noncommunicable diseases including stroke, ischaemic heart disease, chronic obstructive pulmonary disease (COPD) and lung cancer are attributed to exposure to household air pollution.
Research indicates that people spend approximately 90 percent of their time indoors according to the U.S. Consumer Product Safety Commission. It reports that health effects from indoor air pollutants may be experienced soon after exposure or possibly years later.
Useful Innovation's Himalayan Salt Lamps purify the air through the emission of negative ions. Heated salt crystal emits negative ions that fight against positively charged particles such as allergens, asthma triggers, mold and mildew. These salt lamps are available on Amazon https://www.amazon.com/Himalayan-Purifier-Carved-Romantic-Eco-Friendly/dp/B017QPJQ4W
Positively charged ions in the air can cause a person to feel stuffy and sluggish. Heated salt crystal clears the air naturally of allergens like smoke, pet dander, pollens and other air pollutants by causing them to stick together and fall out of the air. It also dilutes odors for easier breathing.
The Heart Shape Himalayan Salt Lamps are hand carved from Himalayan crystal rock salt and set on a Neem wood base with a six foot electrical cord and a 15 watt bulb. When turned on, the glow through the salt produces a soothing amber light which can be mood enhancing.
Himalayan rock salt contains 60 trace minerals considered essential for cell replenishment and growth. It is mined from ancient sea beds that have been preserved by nature from toxic waste and chemicals. Benefits of this rock salt can include detoxification, regulating blood pressure, creating electrolyte balance and support of adrenal and thyroid functions.
The salt lamps need to be warmed to improve air quality. This is accomplished by lighting a 15 watt bulb inside the salt. Since the salt is rather transparent, the lamp emits light. The six-foot cord contains a dimmer switch so that it can serve a dual purpose as a table lamp or dim night light. Available on Amazon https://www.amazon.com/Himalayan-Purifier-Carved-Romantic-Eco-Friendly/dp/B017QPJQ4W
Release ID: 134748