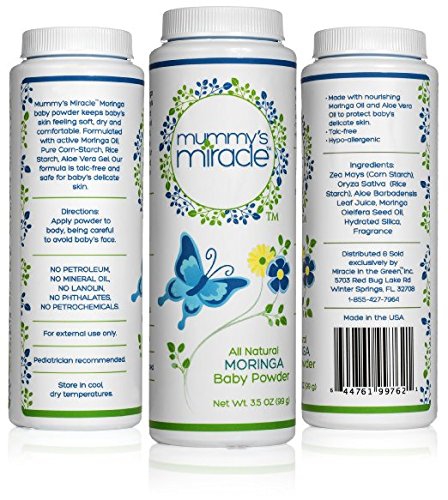 - September 19, 2016 /PressCable/ —
Miracle in the Green, producer of an all-natural baby skin care line and nutritional products, has released a safe alternative to talcum powder for use on babies' bodies, Mummy's Miracle Moringa Powder. The powder keeps babies' skin soft, dry and comfortable.
More information on Mummy's Miracle Moringa Powder can be found at: http://amazon.com/Miracle-in-the-Green/pages/default?pageId=TO1Y0MVLMDSHEES&channel=pressrelease.
Controversy has surrounded the safety of using talc powder. The American Cancer Society reports that it is not clear if consumer products containing talcum powder increase cancer risk. Studies of personal use of talcum powder have had mixed results, although there is some suggestion of a possible increase in ovarian cancer risk.
The American Academy of Pediatrics points out that baby powder can cause breathing trouble, especially for talc-based powders with their small, easily inhaled particles. The American Cancer Society recommends that until more information is available, people concerned about using talcum powder may want to avoid or limit their use of consumer products that contain it.
Mummy's Miracle Moringa Powder is 100% talc-free. Formulated with active Moringa oil, pure corn-starch, rice starch and aloe vera gel, Miracle in the Green's formula is safe for a baby's delicate skin. It is chemical free and toxin free, and there is no animal testing performed in creating the product.
The Moringa oil based powder has antiseptic and anti-inflammatory properties. It is used to heal minor skin abrasions like minor cuts and scrapes, bruises, burns, insect bites, rashes and sunburn and skin infections. It is organic and safe to use for sensitive skin.
Mummy's Miracle Moringa Powder was developed after creator Ify Nwobi, JD, founder and CEO of Miracle in the Green, experienced the effects of Moringa first hand. She was diagnosed with cancer while in law school, and being introduced to Moringa by her parents from Nigeria, she used it daily to gain back her energy and provide her body with optimum nutrition.
Nwobi finished law school and began to research more about Moringa. In her research she discovered Moringa not only to be one of the world's most nutritious foods, but also that the World Health Organization (WHO) found it highly medicinal and nutritious.
Moringa leaves contain a dense concentration of nutrients with about 90 nutrients, 46 different antioxidants, and all eight essential amino acids. Nwobi founded Miracle in the Green to produce products that help others access high quality, affordable and reliable Moringa.
Mummy's Miracle Moringa Powder contains the potent oil of the Moringa seed to nourish and protect babies' skin against rashes and eczema. Other eco-friendly products containing Moringa in Miracle in the Green's baby skin care line include baby oil, lotion, butter, medicated powder, baby powder, vapor rub, tear-free wash and shampoo, diaper ointment, nipple balm for nursing mothers and stretch mark oil.
More about Mummy's Miracle Moringa Powder can be found by visiting the website listed above.
Release ID: 133198