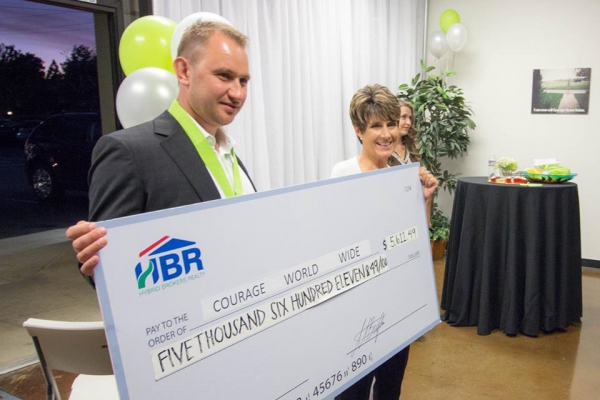 - August 12, 2016 /PressCable/ —
On Friday, July 29th 2016, Hybrid Brokers Realty (HBR) celebrated the grand opening of its Elk Grove real estate office by donating over $5,000 to the following local charity: Courage Worldwide, Inc.
In just a short year of being open, HBR has donated over $20,000 to local charities. According to CEO, Max Boyko, "Here at Hybrid Brokers Realty, the company believes in giving back, so we incorporated into our business model an opportunity to contribute to local charities on a quarterly basis. We have a vision which enables us to continuously give back to our community because we believe our donations should benefit the place where we live, work, and play!"
Courage Worldwide was founded in 2005 to simply help people find purpose. In 2007, Courage Worldwide learned that the world is a place where children are sold for sex. The group vowed to do something—something that would protect these vulnerable children and propel the children into their future. The charity vowed to give the kids hope and a home. In 2011, this charity did just that. Two Courage Houses were opened—homes for minor girls rescued from sex trafficking—one in the United States and one in Africa. The intent of Courage House is to build a Courage House in every city around the world that needs one, so rescued children will have a safe place to heal and call home. Courage Worldwide is committed to not only rescuing child victims of sex trafficking, but also to restoring lives… one individual at a time.
Join Hybrid Brokers Realty in its support of local Sacramento and surrounding area charities.
Contact HBR to find out how to partner with us to support local charities.The team has regularly scheduled meetings to support our charities.
Charities can contact HBR to apply to be charity-supported for a particular quarter.
Release ID: 127583