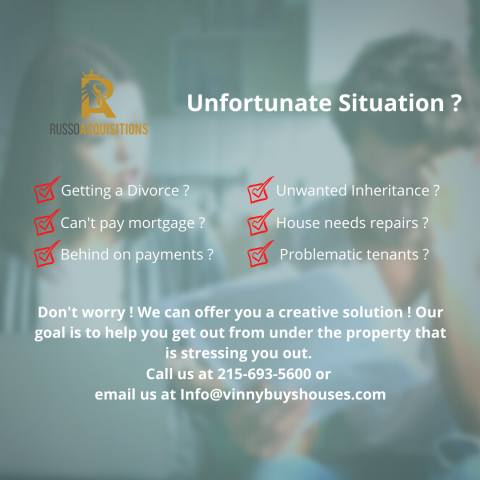 - December 6, 2021 /PressCable/ —
Russo Acquisitions, LLC, a real estate solutions firm operating in New York, New Jersey, Pennsylvania, Tennessee, Alabama, North Carolina, South Carolina, Florida, Louisiana, Maryland and Ohio has today been recognized as being a front runner in the realm of helping homeowners that are need to sell their unwanted or problematic property and in turn becoming a real problem solver to their unfortunate situation.
Russo Acquisitions, LLC has been operating in the real estate solutions market for 6 years and competes against notable national brands such as "We Buy Ugly House"s and "Keyglee". They have been able to make a considerable impression on the market and gain reputation by finding creative solutions that help each and every homeowner they encounter in some way.
Vincenzo Russo, Russo Acquisitions CEO, spoke about the company's recent recognition, expanding on some of the decisions and motivations that led the business to the level it's currently reached.
"When Russo Acquisitions was founded, it was made abundantly clear we wanted to be the kind of company that was known for being a true resource to help homeowners that are in trouble. One of the biggest challenges we faced was separating ourselves from all the other 'We Buy Houses" companies. Fortunately, with some good people behind us, and holding strong to our promise to truly help every homeowner we encounter even if we do not buy their property, we were able to overcome every obstacle and really hit our stride."
Vincenzo Russo also mentioned Russo Acquisitions future plans which involve expanding into several other markets across the U.S over the next 12 months and hiring team members in every state we are operating in at an unprecedented rate. It is their hope to help as many homeowners as possible in some way find the right solution to the issues they are facing.
Russo Acquisitions, LLC plans to maintain its position at the forefront of helping homeowners that are in trouble in some way with their properties for years to come. Russo further intends to build on its success, finding new ways to serve communities, customers and the world at large.
More information on Russo Acquisitions, LLC can be found at their website: https://www.vinnybuyshouses.com/
Release ID: 89055630