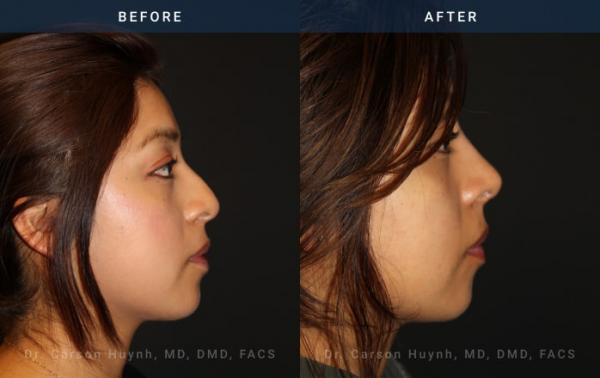 - April 27, 2021 /PressCable/ —
Radiance Surgery & Aesthetic Medicine, a clinic based in Roswell, Georgia has announced an updated rhinoplasty procedure. The procedure, also referred to as nose surgery or a 'nose job,' is commonly undergone to aid recovery after injury, eliminate breathing obstruction, address congenital nose deformities, and provide cosmetic enhancement.
More information can be found at https://www.discoverradiance.com/rhinoplasty-surgery/
The clinic's updated procedure allows patients in Atlanta, Georgia and the surrounding area to correct these common nasal issues and experience life free of discomfort, anxiety, or embarrassment. The process begins with a consultation with Dr. Carson Huynh, who uses digital photo and computer imaging software to communicate the patient's desired outcome.
Most often completed under IV sedation, the skin on the nose is lifted to allow for the surgeon to reshape the nose's bone and cartilage. The skin is then re-draped over the surface. Recovery time is typically one to three weeks.
Having operated for over 20 years, Dr. Carson Huynh is an expert on rhinoplasty for the wide-range of ethnicities in Atlanta, Georgia and its surrounding areas. With a keen understanding of the differing characteristics of noses from different ethnicities, and the variance in cultural beauty ideals, Dr. Huynh is able to provide the individualized approach that rhinoplasty requires.
Aligned with the clinic's ongoing commitment to improving the lives of all their Atlanta-area patients, this updated rhinoplasty procedure helps patients achieve their ideal health and aesthetic goals to improve self-confidence as well as mental and physical well-being.
Dr. Carson Huynh is a prestigious and nationally recognized expert in facial plastic surgery with over two decades of experience. Holding an MD from Emory University of Medicine and a DMD from the Medical College of Georgia, Dr. Huynh is sought for his skills in facial beautification and rejuvenation surgery.
A satisfied client said: "Dr. Huynh was very good at listening to what I wanted to achieve but balanced it with practical candid advice and I am glad he did that. I am happy with the results I have achieved. The entire staff is also very personable and a pleasure to deal with."
Interested parties can find more information at https://www.discoverradiance.com/facial-plastic-surgery/rhinoplasty-atlanta/rhinoplasty-roswell-ga/
Release ID: 89007255