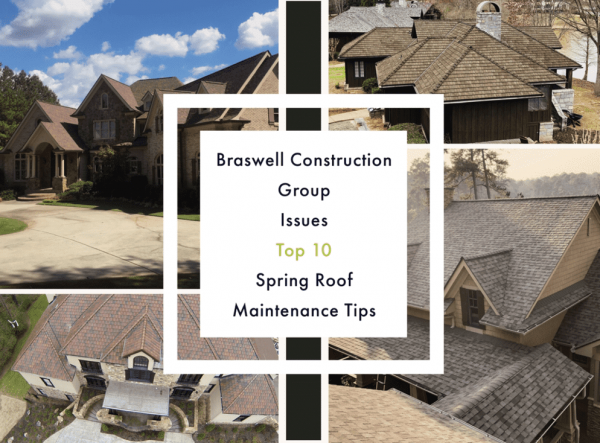 - March 19, 2019 /NewsNetwork/ —
Platinum Preferred Contractor, Braswell Construction Group (BCG), released their important and useful roof maintenance tips for springtime. After a long winter, it is important to check the roof thoroughly for any damage, leaks, or areas of water seepage. The experienced top-rated company has been serving Covington and Atlanta area for over 17 years and has now expanded to Greensboro and Lake Oconee, bringing specialist big-city roofing skills and professionalism to the area. This 3rd location has Braswell Construction Group's expert team now servicing Covington/Conyers, Atlanta, Greensboro/Lake Oconee, and all of their respective surrounding areas.
For more information visit their website at http://www.braswellconstructiongroup.com
In the newly released tips readers are warned that after months of cold wind, rain, snowfall, and even sleet and hail, roofs can take a real beating. If there is a lot of strong wind, shingles can be dislodged. They can also crack and work loose. These will then need to be replaced.
The tips go on to explain that chimney flues can get clogged and the exterior can also show signs of wear and tear. Chimneys need to be cleaned by a professional. Other openings in the roof such as skylights, hatches, and vents need to be checked for leakage. Damp spots on the ceiling could be an indication that there is stagnant water on the roof that is causing damage.
Gutters are considered a common problem area for homeowners after a long rainy winter. They can often get clogged by falling tree debris. Having your gutters cleaned and all the debris removal is crucial in allowing your gutters to fit snug against your roof line. This will ensure no water is leaking behind your gutters and damaging the exterior of your house as well as the roof line.
The Top Ten checklist also offers tips for problematic trees that overhang the roof and deposit a lot of debris such as leaves and even branches over the winter months. All this will need to be completely cleaned so that water will dry up and not hold moisture which cause damage. Trees that provide a lot of shade over the roof throughout the year can also increase the humidity. This makes it easier for moss and algae to grow on the roof. Algae growth is often indicated by large black patches. Any signs of mold or algae growing on the roof require professional cleaning and treatment, if left untreated the mold and algae can eat away at the roofing material and ultimately cause leaks.
Braswell Construction Group warns every homeowner to be aware of their ventilation system for their roof. As temperatures drop outside the home, temperatures rise inside the home often causing condensation. Condensation rises to your attic but if the ventilation system is installed improperly or if there isn't enough ventilation, the condensation can't escape your attic. This moisture damages your roofing system from the inside out and is often overlooked until it's too late. Be sure to check your attic and ventilation system frequently to avoid this costly repair.
Maintaining a comprehensive checklist of all the repairs that have been done over the years will provide a clear picture of the problem areas. This will make it easier to assess whether more extensive repair or restoration work is required.
Braswell Construction Group prides itself on its high-quality craftsmanship, exceptional customer service, and professional acumen. BCG has a reputation for always completing its roofing and restoration projects on time and on budget while providing customized service, top-notch customer service, and unparalleled workmanship.
In addition to Braswell Construction Group's Greensboro, GA location, their expert team also has locations in Buckhead, Atlanta and Covington/Conyers, and has been successfully servicing all respective surrounding areas since 2002.
Braswell Construction Group has been featured several times in both Yahoo Finance, Reuters, ABC, FOX, among many others as an industry leader and the top Roofing Contractor in the state of Georgia. You can learn more about BCG and their high-standing reputation via these features here:
https://finance.yahoo.com/news/greensboro-ga-roofer-roofing-contractor-034000035.html
https://www.youtube.com/watch?v=aQYbpRQpU3c
One attribute that separates BCG from other Greensboro roofing contractors is that they are recognized with the elite status of Owens Corning Platinum Preferred Contractors. To qualify for this exclusive position, Braswell Construction Group not only met the highest standard requirements but exceeded them in all areas of their trade. Once named as an Owens Corning Platinum Preferred Contractor, the provider is considered among the best in the industry.
Chris Braswell, his wife of 16 years and their daughter happily reside in Greensboro, GA where they work, live and play. The Braswell family is extremely involved in all aspects of the local Greensboro community with their business location at 1051 Village Park Dr., conveniently situated off Lake Oconee Parkway.
For more information contact Braswell Constructions Group at their website given above or by calling 678-283- 2551.
Release ID: 493454