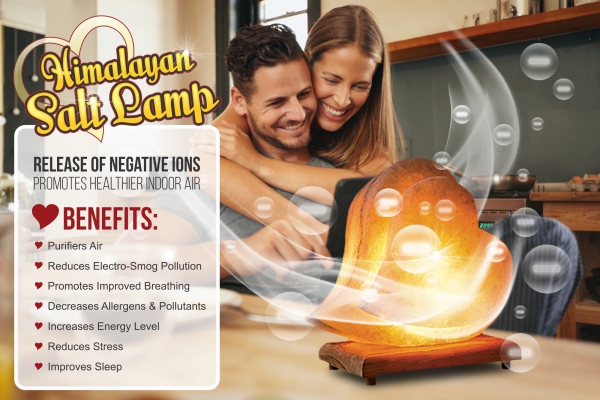 - February 1, 2017 /PressCable/ —
With Valentine's Day just around the corner, gift givers are out hunting for gifts that are just a little different than those previously given in past years. This is very true for those shopping for romantic or sentimental gifts.
Useful Innovation announces the relaunch of the pink double heart shaped Himalayan salt lamp hand crafted from ancient Himalayan rock salt and mounted on a Neem wood base. Available on Amazon at https://www.amazon.com/Himalayan-Purifier-Romantic-Crystal-Friendly/dp/B017QPJQ4W Like all salt lamps, this negative ion generating pink rock salt lamp helps to freshen the air and improve feelings of wellbeing. While turned on, and warmed by the internal light bulb, the salt lamp produces beneficial effects on the air and acts as an air purifier. First, the hydroscopic nature of Himalayan rock salt draws water molecules from the air. Second, water is quickly returned to the air from the warm salt surface. When the water molecules return to the air, they are negatively charged. Negatively charged ions remove impurities and toxins from the air which may impact people with allergies or lung complaints. They also make breathing easier for those already in good health. More information on the positive health benefits of the Himalayan salt lamps are available at http://www.usefulinnovation.com/
The salt lamp comes with a six-foot UL approved electrical cord, 10 watt bulb, and adjustable dimmer switch which, making it possible for the lamp to double as a day or night light. The double heart shaped Himalayan salt lamp, in the form of two hearts side by side, emits a soothing amber glow and contains a multitude of colors, small cracks, and patterns stemming from the ancient minerals naturally found in ancient Himalayan rock salt and the extreme pressure undergone by the rock salt when the mountains formed. That, and the attractive wooden base lend artistic character to the product. Every double heart shaped Himalayan salt lamp is unique and a little different, but similar to, every other one. That makes each lamp a special and unique work of art.
Every salt lamp comes with an instruction manual, giving the buyer the opportunity to fully enjoy their lamp and maintain it in top working condition. Properly cared for, it should last a lifetime and costs less than a nice bouquet of soon to wilt flowers.
Release ID: 166006