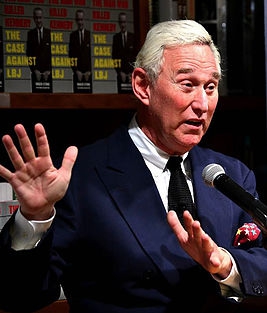 - October 5, 2016 /PressCable/ —
Roger Stone, a former adviser and longtime friend of Donald Trump, launched a weekly radio show called "Stone Cold Truth" for conservatives. Stone is a seasoned political operative and pundit. A veteran of nine national presidential campaigns, he served as a senior campaign aide to three Republican presidents.
Roger Stone and his guests each Saturday on The Stone Cold Truth, a two hour radio show in which the public gets the inside scoop about what is really going on in American politics from a real political insider. This past week guests included: Alex Jones – host of Infowars, Congressman Peter King, Comedian Travis Irvine, and Haitian Activist Ezili Dantò.
The radio show can be watch at StoneColdTruth.com
An outspoken libertarian, he is the author of the New York Times bestseller "The Man Who Killed Kennedy: The Case Against LBJ" and has written for Fox Opinion, Breitbart News, StoneZone, the Daily Caller and the Op-Ed page of the New York Times. A well-known voice in politics for over forty years, Roger Stone often gives insights on behind-the-scenes political agendas on Fox News and InfoWars and has been banned by CNN and MSNBC for his outspoken and politically in correct criticism of Bill and Hillary Clinton.
Stone has long been noted for his personal style, described as flamboyant. In a 2007 Weekly Standard profile written by Matt Labash, Stone was described as a "lord of mischief" and the "boastful black prince of Republican sleaze."Labash wrote that Stone "often sets his pronouncements off with the utterance 'Stone's Rules', signifying listeners that one of his shot-glass commandments is coming down, a pithy dictate uttered with the unbending certitude one usually associates with the Book of Deuteronomy." Examples of Stone's Rules include "Politics with me isn't theater. It's performance art. Sometimes, for its own sake." Stone "has a reputation for sartorial elegance" and does not wear socks, a fact that Nancy Reagan brought to her husband's attention during his 1980 presidential campaign. Labash described him as: "a dandy by disposition who boasts of having not bought off-the-rack since he was 17" who has "taught reporters how to achieve perfect double-dimples underneath their tie knots." Washington journalist Victor Gold has noted Stone's reputation as one of the "smartest dressers" in Washington. Stone's longtime tailor is Alan Flusser. Stone dislikes single-vent jackets (describing them as the sign of a "heathen"); says he owns 100 silver-colored neckties; and has 100 suits in storage. Fashion stories have been written about him in GQ and Penthouse. Stone has written of his dislike for jeans and ascots and has praised seersucker three-piece suits, as well as Madras jackets in the summertime and velvet blazers in the winter In 1999, Stone credited his youthful good looks to "decades of following a regimen of Chinese herbs, breathing therapies, tai chi and acupuncture," according to the Times. Stone wears a diamond pinkie ring in the shape of a horseshoe and in 2007 he had Richard Nixon's face tattooed on his back. As of 2007, he owned five Jaguar cars and five Yorkshire Terriers. He has said of himself: "I like English tailoring, I like Italian shoes. I like French wine. I like vodka martinis with an olive, please. I like to keep physically fit."
Follow him at StoneColdTruth.com
Release ID: 135717