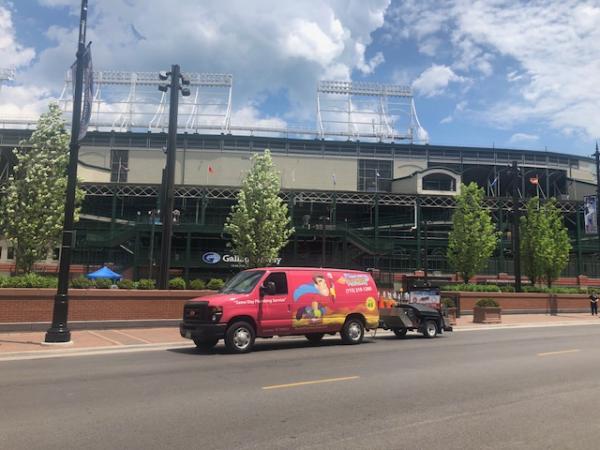 - June 27, 2018 /PressCable/ —
Rocket Plumbing and Brian McMahon are pleased to announce that they have expanded their services offered to include Hydro Jet plumbing services to residents of North Chicago, as well as Skokie and Niles. The family-owned and operated company is celebrating more than 6 years in the plumbing business. Rocket Plumbing offers plumbing repair service for both residential and commercial sectors.
The Hydro Jet tool is widely considered in the plumbing industry as a superior solution to clearing clogged sewage lines with "snaking" or Rootering. Rootering uses a device meant to "snake" through a sewer line to break through a blockage, in most cases composed mostly of grease. The Hydro Jet uses high pressure water at 3,000 pounds per square inch that comes out through a nozel that forces water to push the material back down the sewer line.
Brian McMahon, proprietor of Rocket Plumbing, said "if your pipes have only been rootered or snaked in the past, good news. That's no longer cutting edge technology. The new Hydro Jet solution is much more effective at clearing the toughest clogs, it's not even close."
Where as Rootering will widen a hole or create a new channel for sewage to flow through, the Hydro jet clears blockage material within milimeters of the pipes internal surface. Such a sewer pipe cleaning extends the life of a plumbing system, as well as helps mitigate possible costly repairs.
Rocket Plumbing has created a video illustrating how effective the Hydro Jet is on location at a local Bar and Grill establishment in Chicago. In the video, once the Hydro Jet has broken past the blockage, coins can be visibly seen pouring out of the pipe.
"We see the craziest things blocking pipes, even more so now that we have added the Hydro Jet cleaning service to our offers. This was a first for me", McMahon said.
Rocket Plumbing has locations in Chicago and Los Angeles. The company has established a reputation for reliability, professionalism, and integrity, which can be verified by their outstanding ratings on Google and other service review sites. They have been in business for over six years and continue to grow and expand with the majority of their business coming from customer recommendation.
Release ID: 366918