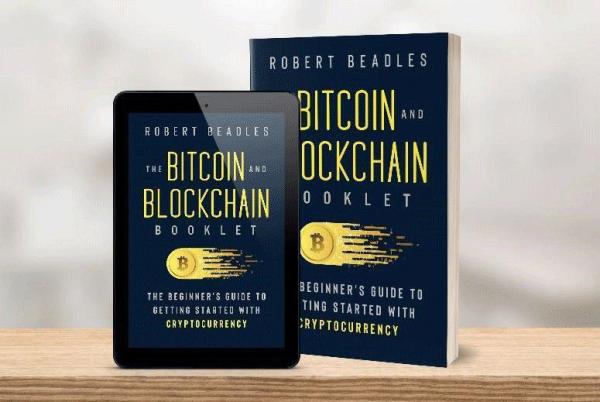 - December 21, 2019 /PressCable/ —
Lodi, CA – Bitcoin, Blockchain, Ethereum, Cryptocurrency…it's all so hard for people to wrap their minds around. Most just don't know what it all means or how it can be used. Many wonder if it's worth investing the time to learn it all. Robert Beadles responds with a resounding "Yes!" in his booklet, The Bitcoin and Blockchain Booklet: The Beginner's Guide to Getting Started with Cryptocurrency.
This book is a quick and dirty education in all things crypto. Robert leaves out the complex and focuses on making this technology something anyone can understand. The goal is to become familiar with the concept of how cryptocurrency works so everyone will be ready when it changes the world of finance. Robert has laid it all out for people.
This book isn't designed to explain every detail of this brave new world, but rather be an introduction. While the book barely scratches the surface, it's meant to give people the foundation on which they can build the rest of their crypto knowledge. Robert also gives readers resources to build their knowledge base and get started in this phenomena. Whether they are new to Blockchain technology, or they've been paying attention for a while, this booklet and Robert's expertise gives people a firm grasp and stops them from scratching their heads every time someone mentions "Bitcoin." Areas for notes are provided on the back of each page so the reader can write their thoughts and call themselves into action.
Walk into Robert Beadles' world of Bitcoins, Blockchains, and Satoshis! Many may be lost by the previous statement, but readers won't be for long! For those who grab this book, become as much of a pioneer as the first car drivers, pilots, or deep-sea divers. This is now an opportunity to step onto the ground floor of one of the 21st century's most fascinating creations!
About Robert Beadles:
Robert Beadles is a Christian, father, husband, successful serial entrepreneur, seasoned business builder; prominent Blockchain & Cryptocurrency educator on TV, YouTube, TradingView Sessions, and throughout the world. Beadles is the builder and Co-Founder of the Monarch Wallet, MonarchPay and is a member of the C4 Crypto Consortium. He is an avid believer in Cryptocurrency, Blockchain technology and offers some of the most in-depth, educational, unique, and insightful content available. Make sure to check out his official website CryptoBeadles.com for all things Cryptocurrency & Blockchain related.
Find out more at CryptoBeadles.com.
Release ID: 88939621