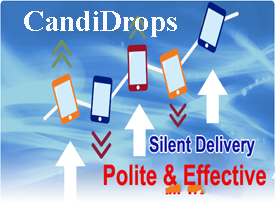 - November 24, 2020 /PressCable/ —
San Diego Ringless Voice Messenger and the Los Angeles voicemail drops brand CandiDrops of CandiMALL GOTV Store have agreed to reduced pricing, and update their ringless voice mail messaging technology to be truly ringless, and to the renewal of their partnership established in 2015 in California to market ringless messaging services beginning 2021. Together they will market the new updated real ringless voicemail drops and text messaging services on the CandiMALL GOTV STORE platform.
Ringless Voice Messenger and CandiMALL GOTV Store brand CandiDROPS have agreed to drop pricing under 2 cents and renew their partnership established in 2015 in California to market in he United States and Canada the ringless voicemail messaging services starting January 1, 2021. These two Southern California based companies, from the Los Angeles area of Long Beach and San Diego have a wealth of combined experience in providing political campaigns, businesses, and non-profits digital GOTV and digital marketing agency services. CandiMALL GOTV Store political toolbox is a brand owned by ePoltical USA is the inventor of political robo calls, robopolls and IVR polling surveys as acknowledged in Wikipedia.
ePoltical USA and Ringless Voice Messengers are top tier members of the Los Angeles digital PR strategist syndication and publicist organization Chemeria Consultancy, an international digital agency, renown for being in the forefront of Los Angeles business, non-profit and political promotions since 1973, Tony Inocentes is the firm's founder. The LA digital promoter syndication are innovators of business and political reputation management, social media strategies, management, and geotargeted advertising and marketing, and digital ringless lead generation services throughout North America and the Philippines.
Interested parties can view the full partnership details and pricing at the following https://gotv.store or http://ringlessvoicemessenger.com
With the pricing reduction and relaunch of Ringless Voice Messenger, and CandiDROPS will be continuing to share multiple responsibilities including:
Service fulfillment will be jointly shared – Both CandiMALL and Ringless Voice Messenger will help expedite the order fulfillment process
Marketing and Advertising – The companies will jointly fund the marketing and advertising strategies along with Over-Time Digital PR and Marketing Solutions, the business digital public relations and marketing company of the syndication
Customer Service – A team of trained BPO experts ready to assist clients with the campaign relaunch pricing and answer any questions about how to use the ringless voice drops message service most efficiently.
The Ringless voicemail messaging service has been created specifically for political, non-profit, and local, offline, and online marketing companies and their consultants with multiple features:
Full FCC, FTC, CRTC and DNC Compliance – Messages are delivered to voice mails server to server without ringing the phone
Boost sales immediately – Silent voicemail drops can deliver cost effective persuasion using voice mail messaging for under 2 cents per verified delivery. An easy to use DIY or DFY dashboard and platform are available.
Chemeria Consultancy Founder, Tony Inocentes, and a principal of e-Political USA had this to say about the relaunch partnership for ringless voicemail service drops and messaging Services today:
The combined experience of this partnership has provided a guarantee to the valued clients that the most stellar team of professionals capable of insuring that customers will attain the best results when using ringless message drops to boost their sales and profits are leading the team effort.
Those interested in learning more about the partnership re-launch. our new updated reall ringless voicemail nessage driop technology, and 2021 pricing can do so here: https://gotv.store. Those interested in purchasing Ringless Voicemail Drops and Messaging Services can do so here: https://gotv.store. Peruse the Chemeria Consultancy Syndication and all its' members at: https://chemeria.com.
Release ID: 88986839