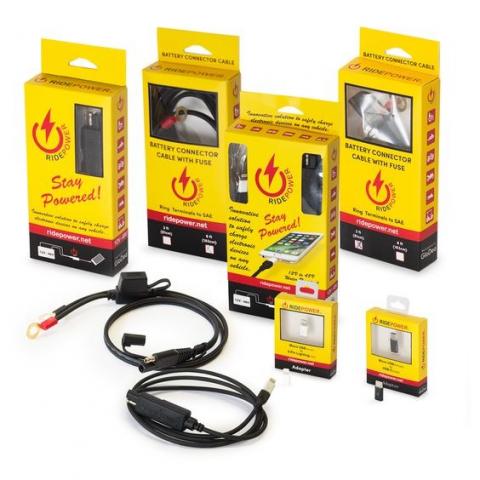 - June 21, 2018 /NewsNetwork/ —
June 21, 2018 – Jacksonville, FL. RidePower.net announced the additional expansion of their product line of rugged and reliable phone chargers throughout the USA that can be used on all types of battery operated vehicles from 12volts to 48 volts.
RidePower.net has set an objective for this expansion program to help potential retailers and wholesalers discover the unique specifications of the RidePower.net charger cables and offer them a chance to market the cables to Consumers.
In 2012 a retired Marine veteran, named Steve Young was out on his jet ski in Jacksonville, Florida. While out cruising he was taking pictures, using his GPS, and was listening to music. This quickly drained his cell phone battery, and he could have been in a lot of trouble if there had been an emergency.
"I tried using the USB cigarette lighter adapters, but they did not last long, were not durable enough, and even shorted out my jet ski and damaged my phone. This was a huge problem that cost me a ton of money in parts and phones trying to find a solution to my problem." Said Steve Young.
Steve, then decided to solve the problem himself, by developing his own innovative solution, a rugged and reliable, outdoor phone charger cable that is now known as RidePower. He developed and had a patent pending on his first successful 12-volt micro-USB phone charger cable. "However, it was expensive to make and had a limited market. This was a good solution but not good enough." Said Steve.
Adrenaline junkies and weekend warriors have several ways of enjoying their free time, including: playing golf, bouncing through waterways or cruising the open road or dirt trails. Culturally, smartphones continue to be the device of choice for how they enjoy music, obtain location and map information, get news and capture memories. This makes the dependability on these devices as important as their recreational time. About 2.5 billion people around the world own a smartphone and use them for everything. However, using the camera, texting, emailing, using social media, using GPS and music streaming quickly drains the phones battery. The ability to live an active and thrill-seeking life while staying powered is essential.
He began selling his new invention to people he met one at a time. They all loved it and so he started to go to marketing events to get more exposure. One he attended was "One Spark" (an annual event held in downtown Jacksonville, Florida, that offers opportunities for private investment in projects). This was where he met a manufacturing company called "GloDea". They struck up an agreement to help with the manufacturing and marketing of this great invention. They immediately started working on the 12volt through 48volt phone charger cable, for all phones. GloDea helped reduce the manufacturing cost, took his plastic bag packaging and turned it into a well-designed package. They also have helped with the expansion of the product to create brand awareness and develop retail outlets.
Today Harley Davidson, Motorcycle Superstore, J&P Cycles, and many other well known retailers and distributors have joined the RidePower crusade. They have come a long way, from a solution that was being sold out of a plastic bag to gaining more attention each day.
Steve was approached by the famous Parker Brother Concepts firm, and he was asked if they could install the RidePower Phone Charger Cable on their latest creation the "NeuTron" motorcycle. The Parker Brothers are known across the globe for designing and building the most "outrageous vehicles on the planet."
One big question people ask is what makes RidePower special? The answer is very straight forward. It is a simple and dependable cell phone charger cable for all power sport vehicles. RidePower has charge sensing technology and auto connects to any vehicle with a 12 volt through 48 volt electrical system. RidePower works on vehicles such as: Motorcycles, Jet Skis, PWC, Snowmobiles, Golf-Carts, ATVs, UTVs, Scooters, Small Boats, Tractors, Motorized Wheel Chairs, and much more. It is rugged in design for outdoor use and is resistant to water, snow, dust, and dirt. The cables have also earned the CE Certification. Unlike most unprotected phone chargers on the market, the cable only draws power when a device is connected and has integrated shorting protection circuitry, that will NOT short out the battery, or the device it is connected to. The RidePower integrated compact circuitry cable connects directly between the SAE battery connector cable and the phone. RidePower draws .001mA from the battery if a phone is not connected to the charger. It is compact in design and is easy to install. It is compatible with both Android and i Phones.
RidePower is gaining more and more attention every day, but back in 2012 people could not find a charger like this, nothing came close. They currently offer 7 different registered products and have more in development. The company guarantees and backs up its products 100% and they are CE Certified. They have dunked it in water, ran over it, burnt it, and even held it up with a weight to prove its ruggedness and reliability. To learn more about the RidePower charger cables visit their site at: https://ridepower.net/products
They have an informative video that will give more details about this unique product line:
https://www.youtube.com/watch?time_continue=10&v=4xNA9rw4bIO
They can also be found on Facebook: https://www.facebook.com/RidePower/
Steve Young
521 Copeland Street
Jacksonville, Florida 32204
Toll Free: 1 (888) 400-4937
Local: 904-862-8946
Release ID: 362513