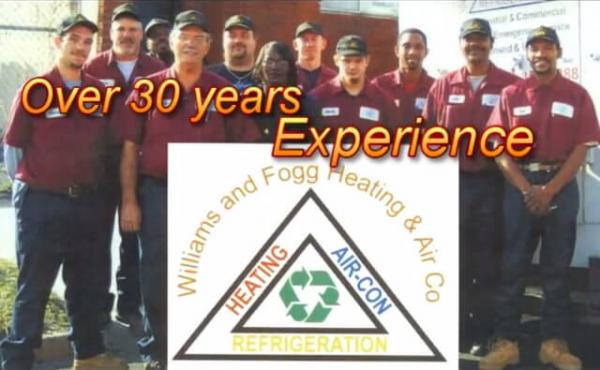 - February 26, 2020 /PressCable/ —
Williams and Fogg Mechanical, a Virginia-based plumbing repair business with more than 40 years of experience, recently updated its plumbing and heating services roster to include professional installation, maintenance and repair services for all types of heating systems. Additionally, the company is now serving both the residential and commercial plumbing needs of customers throughout the surrounding areas of Chesterfield, Petersburg, Ashland, Bon Air and every county connected to them.
"We now provide expert professional installation, maintenance and repair services for all types of heating systems including oil and gas furnaces, heat pumps, geothermic, mini-splits and more," says Ronald I. Fogg, owner of Williams and Fogg Mechanical. "Winters can get quite chilly around these parts, and our plumbers know that customers rely on their heating systems to keep their homes and offices warm when the cold winds begin to blow. If a heating system isn't doing its job, the help of a heating and plumber specialist is required…and that's where we come in."
For more information visit https://richmondplumbingandhvac.com/
Boasting technicians, over the years, who have been implementing HVAC repair since 1976, Williams and Fogg offers services for oil furnaces, natural gas furnaces, electric furnaces and heat pumps, with routine service and maintenance protocols considered crucial for keeping a system running efficiently with minimal need for repair.
"We often tell clients that routine heating repair and maintenance prolongs the life of a heating system and keeps energy bills to a minimum," adds Fogg.
In the area of oil furnace repair and maintenance, the company handles everything from checking the fan belt to lubricating blower parts, cleaning the burner nozzle, inspection of the entire system, adjusting the system for optimal performance and checking gas connections. For electric furnaces, this list is accompanied by checking electrical connections (rather than gas variants) and the elimination of checking burner nozzles.
Because heat pumps work differently from furnaces, they demand their own checklist for maintenance which includes cleaning the indoor coil, cleaning the drain pan and checking the drain line, inspecting ducts/vents/blowers for damage and dirt, checking discharge pressure, measuring refrigerant charge, verifying defrost sequencing, checking blower motor and lubricating motors and bearings.
Williams and Fogg also offers heating system enhancements that are designed to optimize comfort levels, a list that includes adding zoning to ductwork (using multiple thermostats and air duct dampers to regulate heat throughout a space much more efficiently), advanced programmable thermostats (which keep a space comfortable when needed and that lower the temperature when no one is in a room) and more.
Plumbing services, available with financing, as offered by Williams and Fogg include drain cleaning, sewer line repair, water line repair, commercial plumbing, sewer camera inspections, hi-pressure jetting, gas lines, faucets and fixtures, kitchen plumbing, bathroom plumbing, garbage disposals, showers and shower heads, leaking pipes, toilet installation and repair, floor drains, frozen pipes, rooter service, sump pumps, plumbing inspections, appliance relocation, water heater repair and water softeners.
Williams and Fogg Mechanical Services is located at 1207 School Street B and can be reached by calling (804) 506-3021. For more information contact them by phone or visit their above cited website.
Release ID: 88947957