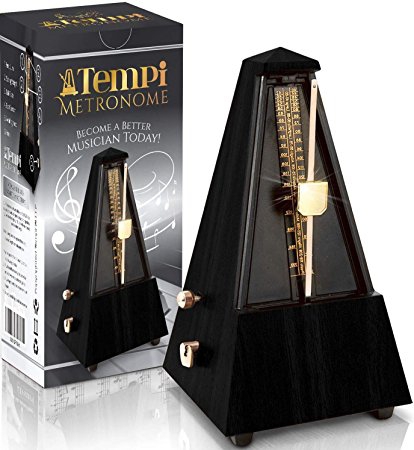 - October 20, 2017 /PressCable/ —
Teachers and students, amateurs and professionals, no matter what the level, every musician must use a metronome to improve their skills. It's easy to get a metronome these days, but not necessarily a good quality one. The Tempi Metronome for Musicians is the ideal balance, it is easy to use and a quality product.
https://www.amazon.com/Tempi-Metronome-for-Musicians-Black/dp/B06XJ45FJB
Digital metronomes are plentiful and convenient. Anyone with a smartphone can download one. However, the digital sound quality is not always as good as a mechanized metronome. The beat sounds are too soft and too "tinny." There is no use playing with a metronome if the beat can't be heard over the instrument. Children who use a smartphone metronome may end up being distracted by a game instead, and not focus on their original task of practicing.
The Tempi Metronome for Musicians comes with a two year warranty and a free microfiber cloth. The e-book "Our 10 Best Practice Tips to Help Any Musician Succeed" is included in every order. The metronome has a beautiful mahogany veneer finish and will look elegant wherever it is placed.
High quality steel gears make the metronome work. Just set the dial from 40-208 beats per minute, then let go, and the "tock, tock" will start. The clear sound of the beat can be heard over a violin, trumpet, or piano. A modern feature has been added, a beat bell. Pull the lever on the side to a time signature choice of 0/2/3/4/6 and then a bell will sound on the downbeat. This important feature can help with those difficult rhythms and passages. With this metronome, it is visually easier to see, aurally better to hear, and some students may find they can feel the beat by watching the pendulum swing. The visual and kinesthetic attributes are not available with a digital metronome.
Rhythm is one of the fundamentals of music, and what better way to improve it than with the Tempi Metronome for Musicians? Perfect for any music studio, practice room, or school music classroom, try one today.
For more information go to https://www.amazon.com/Tempi-Metronome-for-Musicians-Black/dp/B06XJ45FJB
Release ID: 252820