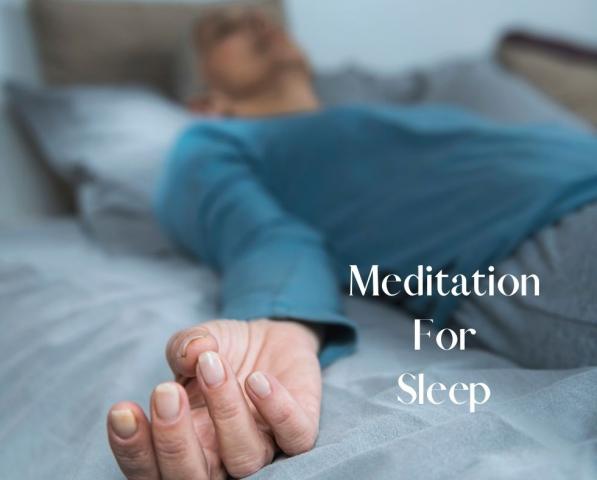 - March 14, 2021 /PressCable/ —
Are you one of those people who are having a hard time sleeping at night? You are not alone, as studies show that 30 to 40 percent of adults have sleeping problems, and 10 to 15 percent have chronic insomnia.
You are probably familiar with the feeling of not having enough sleep, and then the next day, you'll feel lethargic, have trouble focusing, and lose motivation. However, did you know that insomnia can have more severe health consequences? Good thing that there is a meditation for sleep that can surely make your troubles go away.
What is sleep meditation?
Meditation trains people to be less conscious and more mindful of the present moment. The inclination of the mind to get wrapped up in thinking is stronger at bedtime. Sleep meditation is a specific, guided experience that offers natural sleeping assistance entirely on its own, allowing us to let go of the day—anything that has happened and all that has been said—so that we can relax our minds while at the same time resting our bodies. From a scientific point of view, meditation helps suppress the heart rate by igniting the parasympathetic nervous system and facilitating slower breathing, thereby increasing the likelihood of quality night sleep.
Best guided sleep meditation
BrainTap has the best meditation for sleep music and the best tool that offers restful deep sleep. It's a quick and efficient way to calm down, reboot, and revitalizes by really utilizing the brain's maximum potential—anytime, wherever. Backed by neuroscience and research, brain-tapping guided meditation helps individuals with high stress, sleeping problems, low energy, and other lifestyle challenges.
What is BrainTap?
BrainTap is a combination of five mind-impacting technology, including light frequencies, beats and vibrations, auriculotherapy (similar to acupuncture needles except for light frequencies), 10-cycle holographic music, and guided creativity. BrainTap therapies are administered using a special state-of-the-art headset that blocks ambient inputs and lets you focus on counseling sessions.
How does BrainTap work?
The BrainTap headset helps you achieve a deeper state of meditation, mental clarity, and insight without needing years of disciplined practice. It is a guided meditation for deep sleep, and the system also boosts your sleep and makes you wake up feeling rested and energized. You can have the additional advantage of decreased anxiety, fatigue, and irritability, while at the same time fostering inner harmony and emotional wellbeing.
What happens at a BrainTap session?
When the mask's visor is placed over your closed eyes and the glasses are placed over your ears, absorption starts with the perfect mixture of sound and light. You are exposed to a dazzling show of light as you take part in specially created music and then participate in the BrainTap technology process.
All of these boost overall experience and result in higher brainwave theta/alpha function. You can experience colorful geometric shapes or even lose sight of the lights. The light and sound pulse rate will shift you from the wide-awake beta to theta's sleepy/dreamy state as the session progresses.
Why do I use Braintap?
BrainTap Pro is an app that combines binaural beats and interactive visualization to help users "reset" their minds. It may enhance restless thoughts and feelings, promote deeper sleep, boost mood and energy levels, and more.
When I use BrainTap, I can be more active when it comes to studying, and I can concentrate on the same thing I do, which is important to me when I work on developing my body. It works to minimize the discomfort induces by inflammation in the body and various other unhealthy items that you can conveniently prevent with this product.
In short, BrainTap is a wonderful device that will change your whole life. The little computer has comprehensive applications that will boost your well-being, revealing that everybody can have it. I can't begin to understand how much I've improved from using these applications. It is such a relief that I have found the best meditation for sleep.
Release ID: 89000864