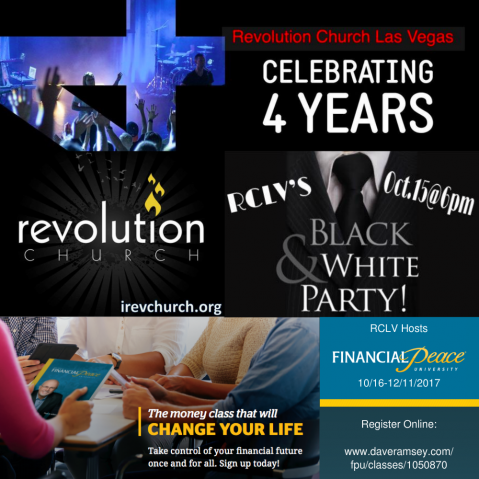 - October 16, 2017 /PressCable/ —
LAS VEGAS, NV – Revolution Church Las Vegas (RCLV) proudly announces their 4th Anniversary in Las Vegas. RCLV opened their doors to the Las Vegas community in 2013 as a new contemporary house church. RCLV is celebrating their anniversary with a "Great Gatsby" theme and black and white (dress in black and white semi-formal to formal) party, with food, music and celebrating. The party is open to the public and starts Sunday, October 15, 2017, at 6pm. Please call (707) 954-4489 or visit http://www.irevchurch.org/ for more information.
RCLV Lead Pastor Dr. Denny Valero said, "We are just beginning and God has so many great things for us. I am so thankful for all that God has brought us through in this half decade here in LV. … I've been blessed to covenant with some great people and create a family in our church." Dr. Valero added, "We now approach our 4th year as a church. I measure growth not by the width of my ministry but the depth of my relationship and growth in him. My Pastors and I reviewed yesterday where we were. Have we grown? From strong marriages, to health in life and finances to letting God grow us past personal struggles..I call that growth!"
In continuing outreach for the community, RCLV also announces they are hosting Financial Peace University® (FPU), a 9-week life-changing program on personal finance, starting Monday, October 16, 2017, at 7pm. FPU empowers people to manage money better, eliminate debt and build wealth. It's brought to the community as part of Revolution Church Las Vegas financial awareness education efforts. Official Registration: https://www.daveramsey.com/fpu/classes/1050870
RCLV church member and FPU Coordinator, Darcey Hall, is a past Financial Peace University graduate. Hall stated, "I attended & facilitated Financial Peace University programs in Dallas, TX; myself and others benefitted greatly from the program. Shortly after joining Revolution Church in Las Vegas, I felt called to help lead FPU again, for the Las Vegas Community."
What Is Financial Peace University?
Financial Peace University is a 9-lesson, once-a-week class that offers financial education and teaches accountability. It can help students create behaviors that let them master their finances.
More than 4,000,000 people have completed Financial Peace University classes nationwide.
Benefits of attending FPU: Learn to put together a spending plan that works for the entire household; Learn the step-by-step process to get out of debt and stay out of debt; Alleviate the stress of financial challenges; Learn how to create an emergency fund equal to 3 to 6 months of expenses; Develop more confidence in making investment and insurance decisions; Learn the best way to buy and sell a home.
FPU is best for those who: Live paycheck to paycheck; Want to set up a budget that works; Don't have an emergency savings account; Feel like their money has control over them; They and their spouse disagree on finances; Have large credit card balances; Want a greater understanding of real estate and mortgages, investing, college planning, retirement savings and insurance and collection practices.
About Revolution Church Las Vegas (RCLV):
Revolution Church Las Vegas (RCLV) is fresh church plant in Las Vegas, NV. Under Lead Pastor Dr. Denny Valero and Pastor Iris Valero, RCLV is a new contemporary church with a desire to touch Las Vegas and the world with life changing message and power of Jesus Christ. Dr. Denny and Iris are "dedicated to seeing people reached, raised and released into God's destiny for their lives." They invite the public to join RCLV if anytime they are in the area for "time or revelation and glory from the throne of God!".
To enhance teaching and bonding for Revolution Church Las Vegas' congregation, RCLV's leadership is bolstered by members Pastors Hector & Denise Nuno; Revolt Youth Ministry Pastors Ben and Shantell Morales Yanez; Helping Hands Healing Herbs Ministry Pastor Doris Harville; Financial Concepts Pastor Shirley Teodoro; Iron Men's Ministry Teachers and Leaders Ramiro Gomez & Marc Morgan, and Women's Ministry Teacher and Leader & Sheri Morgan.
About Dave Ramsey®:
Financial Peace University was founded by Dave Ramsey®. Dave hosts The Dave Ramsey Show® on a nationally syndicated radio talk show. He is the New York Times best-selling author of Financial Peace and The Total Money Makeover®. Dave knows what it's like to have it all and lose. By age 26, he had accumulated over $4 million in real estate, had a net worth of more than $1 million and made $250,000 a year. By age 30, he'd lost it all. Ramsey rebuilt his financial life based on solid principals of common-sense money management and has gone on to teach others the lessons he learned.
About FPU Coordinator Darcey Hall:
Darcey Hall moved to Las Vegas in 2014 and discovered Revolution Church Las Vegas in Spring 2017. She is the Owner and Director of Business Development of GoalDen Solutions, a social media, reputation management and lead generation company, and enjoys giving back to the community,
Release ID: 250645