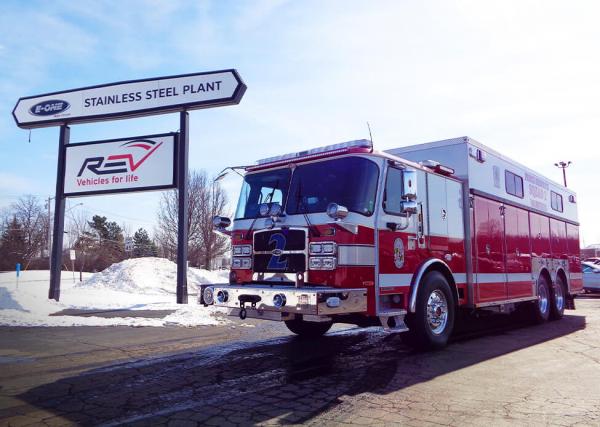 - February 18, 2022 /PressCable/ —
E-ONE has revels the order of an all-electric Vector. In a new press release, E-ONE announced that the Mesa Fire and Medical Department based out of Mesa, AZ, is looking for an EV fire truck.
In the release, The Vice President of Sales, REV Fire Group, Mike Virnig, says, "In developing the Vector, we worked closely with our customers to identify their product needs. Using this feedback, we designed a robust EV rig that upholds our commitment to providing the highest quality and best performing fire apparatus."
The all-electric vehicle is equipped with the industry's longest electric pumping duration, using around 316 kilowatts of total battery power. This lets the rig drive 750 GPM for around 4 hours on a single charge.
The vehicle includes many other features like a 00-inch wide cab with a raised roof, clean cab design with no SCBA in the cab, upgraded air conditioning system, 500 amps of available 12-volt power and so much more.
The state-of-the-art new rig is set to be delivered to the Mesa Fire Department sometime in 2022. For anyone with even a passing interest in the world of emergency vehicles, this launch will be worth paying attention to, as it's set to shake things up.
The Mesa community has recently adopted a new Climate Action Plan and the goal of achieving carbon neutrality by 2050.
E-ONE is a subgroup to REV-Group Inc., which provides customers all over the United States with emergency vehicles. Established in 1974, producing a wide variety of fire trucks for nearly 50 years, E-ONE has always aimed to provide communities across the country with affordable, efficient emergency fire rigs.
While fully EV emergency trucks are almost unheard of, the all-electric Vector will push the envelope for environmentally friendly emergency vehicles. This alone is predicted to make E-ONE's fire rigs more popular with customers in the emergency vehicles space, quickly.
Once again, the all-electric Vector fire truck is set to be delivered to Mesa, AZ sometime in 2022. To find out more, the place to visit is https://www.e-one.com/e-one-receives-order-from-the-mesa-fire-and-medical-department-for-a-vector-north-americas-first-fully-electric-fire-truck/
For further information about E-ONE or REV Group inc., this can be discovered at https://www.e-one.com/
Release ID: 89064635