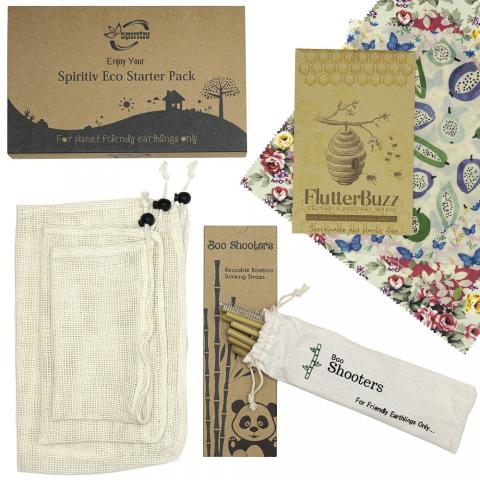 - November 5, 2019 /PressCable/ —
An ethical new company has launched in the eco space, with a mission to reduce the use of single use plastics.
Spiritiv – created in the UK in the summer of 2019 has manufactured a wide range of eco friendly products, which are now on sale.
The company launched its first product on amazon uk – an eco gift set , consisting of reusable beeswax wraps – ( an alternative to plastic cling film ) biodegradable bamboo straws – ( plastic straws are the biggest single culprit of single plastic waste ) and cotton produce bags to replace the nasty supermarket plastic bags.
Spiritiv products are all reusable meaning they won't end up as landfill anytime soon, and they are also biodegradable which means at the end of their useful life they can be re-purposed, or they will break down naturally without causing damage to the planet.
Their website suggests the food wraps are made from organically sourced cotton, infused with beeswax, jojoba oil and pine tree resin – to give them a lovely feel and gentle stickiness. This enables them to be used to wrap around food items to keep them fresh.
Breathable and waterproof – They make a great alternative to plastic for wrapping sandwiches, cheese and other food produce. The jojoba oil has natural anti microbial properties to delay your items from going off.
They are washable and reusable and have over a 12 month life span.
The beeswax wraps come in some beautiful patterned designs that make your lunch time snack look amazing, while safe in the knowledge you are not causing any damage to the planet.
The wraps are available as part of the eco gift set, on amazon for a short while at a discounted rate here –
Spiritiv is different to the other beeswax wrap producers as they offer a range of eco friendly products all in one pack. The Director at Spiritiv, Brian Oliver, makes a point of saying "things are going to change when our Beeswax Wraps launch".
Brian Oliver continues… "Where you'll always see our competitors doing the same old thing, we will provide ethically sourced products with a mission to reduce single use plastics. We do this because we believe It is never too late to make a difference. Ultimately this is going to be a huge benefit to our customers because our eco friendly offering, reduces plastics, and food waste."
Spiritiv was established in July 2019. It has been doing business 4 months and it has always aimed to To bring affordable, plastic free reusable products to homes in the UK.
The company have developed a gift pack of 3 unique products, which is predicted to make them more popular with customers in the cco friendly space, quickly.
Beeswax Wraps launched in Summer 2019 with a big discount – To find out more, the place to visit is https://spiritiv.co.uk/amz
For further information about Spiritiv, this can be discovered at https://spiritiv.co.uk
Release ID: 88932400