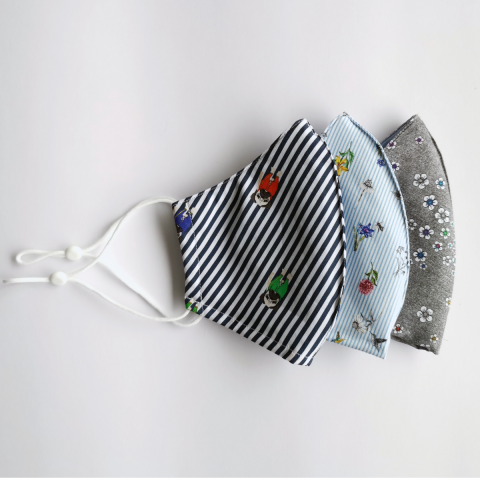 - July 26, 2021 /NewsNetwork/ —
Hong Kong-based fashion boutique, MILK Shirts, announces its latest collection of breathable, reusable cotton face masks. Each mask is locally produced and carefully crafted with five layers of upcycled Oeko Tex Standard 100 fabric and features an insert pocket for filters.
More details can be found at https://www.milkshirts.com/products/milk-reusable-cotton-face-mask?variant=32045884735534
The newly announced collection addresses the need in the market for fashionable and functional protective gear. The company is guided by its core ethic of designing meticulously made minimalist clothing and has applied it with its new collection of unisex face masks. These masks can be worn for office work or everyday wear and can even be used by children.
Reusable cotton masks are a recommended option for the general public. Unlike medical-grade surgical masks, cotton masks can be washed repeatedly, making them an environmentally friendly alternative. Additionally, cotton masks typically are more breathable and comfortable compared to surgical masks.
All MILK masks are made with 100% 2-ply upcycled cotton and feature a leak-proof 3D design for a snug, custom fit. The adjustable drawstrings likewise prevent earaches.
The interior pocket adds an extra layer of protection. Each purchase of a MILK mask comes with a 30-piece pack of 100% polypropylene non-woven filters with a melt-blown core. These filters should be changed after each use.
MILK began as a small boutique committed to craftmanship. They started with the basic white shirt but made it their own by using the finest European fabrics designed with strong attention to detail. The company says that true fashion enthusiasts will notice the difference: though simple in appearance, each MILK shirt is meant to last for decades.
A spokesperson for the company said, "Simplicity takes hard work. This is something the world of "fast and easy" has forgotten. They've lost the sophistication of authentic design and spirit of "made to measure". We elevate the essentials, one piece at a time."
The company reminds customers that its masks cannot be returned or replaced for sanitary reasons. Further, the team says that cotton face masks are not replacements for medical-grade personal protective equipment.
Interested parties can find more information by visiting https://www.milkshirts.com/products/milk-reusable-cotton-face-mask?variant=32045884735534
Release ID: 89038620