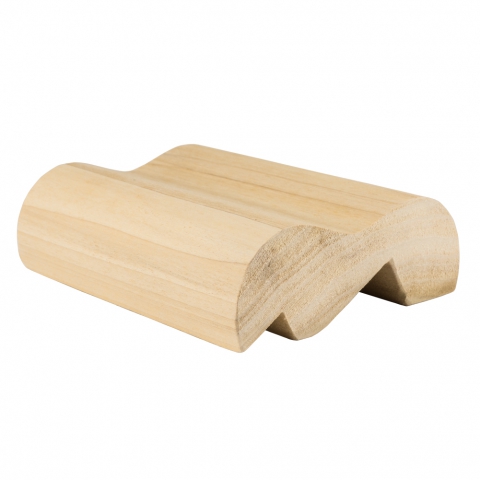 - June 28, 2017 /PressCable/ —
As Millennials are changing the world right now, bars and restaurants have to find new ways to change with them. Whenever this group of people dine out or go to a bar, they expect much more from dining since they like to connect with their friends on social media.
New and upcoming trendy bars and restaurants are working hard to feature comfortable places to dine at, since Millennials like these hot spots to take photos of their plates to share on Pinterest or Facebook. Studies show this age group tends to appreciate the ambience as well as the architectural atmosphere when dining or going out.
Blumer & Stanton's M95 Maple Bar Rail Moulding is designed for new bars and restaurants, or for bars in need of a makeover. "The M95 Maple Bar Rail Moulding is durable to sustain heavy use, yet provides a very comfortable resting place for your arm when sitting at the bar," a spokesperson for Blumer & Stanton said.
"One of our most popular items, M95
Bar Rail Molding
is ideal for the bar top in restaurants and pubs, as well as DIY home bars and dens. Milled from Maple wood, it's perfect or a stain or paint finish and recommended for indoor applications," the spokesperson added.
Blumer & Stanton's Chicago Style
Bar Rails
give function to a bar or restaurant, is durable enough to sustain heavy use, and gives the edge of a bar a nice finished look. The Chicago Style Bar Rail also provides an edge to keep glasses or dishes from being slid off the edge of the bar.
Restaurant and bar designs are changing to attract and keep Millennials in their buildings for a longer period of time. Millennials continue to enjoy staying in touch and connected on their phones and other devices when going to a restaurant or bar. The new generation of Millennial guests want to have fun, socialize, and express themselves while dining or going out in a comfortable and inviting atmosphere. People who are interested in knowing more about Blumer & Stanton or their products can visit their website or Amazon.
https://www.amazon.com/Wood-Bar-Rail-Molding-Comfortable/dp/B06XTXXC6K
About Blumer & Stanton, Inc:
Blumer & Stanton Enterprises is located in West Palm Beach, Florida, and was established in 1946. Blumer & Stanton primarily operates in the Millwork business, making quality custom woodwork. For over 71 years, the company has had the privilege of serving South Florida's distinguished and quality-conscious builders with custom architectural woodwork, entryways, cabinets, columns, doors, shutters, and wood moulding profiles – from elegant upscale residences to high-end commercial projects.
https://www.amazon.com/Wood-Bar-Rail-Molding-Comfortable/dp/B06XTXXC6K
Release ID: 211967